Audio articles are on the brink of ubiquity. There was "rapid development" in the format last year, according to Reuters Institute, and 80% of media leaders are planning to invest more in digital audio throughout 2022.¹

"In our conversations around trends and predictions, it is clear that many publishers believe that audio offers better opportunities for both engagement and monetisation than they can get through similar investments in text or video," wrote Nic Newman.

Let's take a look at some of the leading news publications making their stories listenable:

The New York Times | The Washington Post | The Irish Times | The Wall Street Journal | The Economist | Aftenposten | Zetland | Tortoise Media | The Japan Times | BBC | Berlingske | Harvard Business Review | The New Yorker | Bloomberg | News24


The New York Times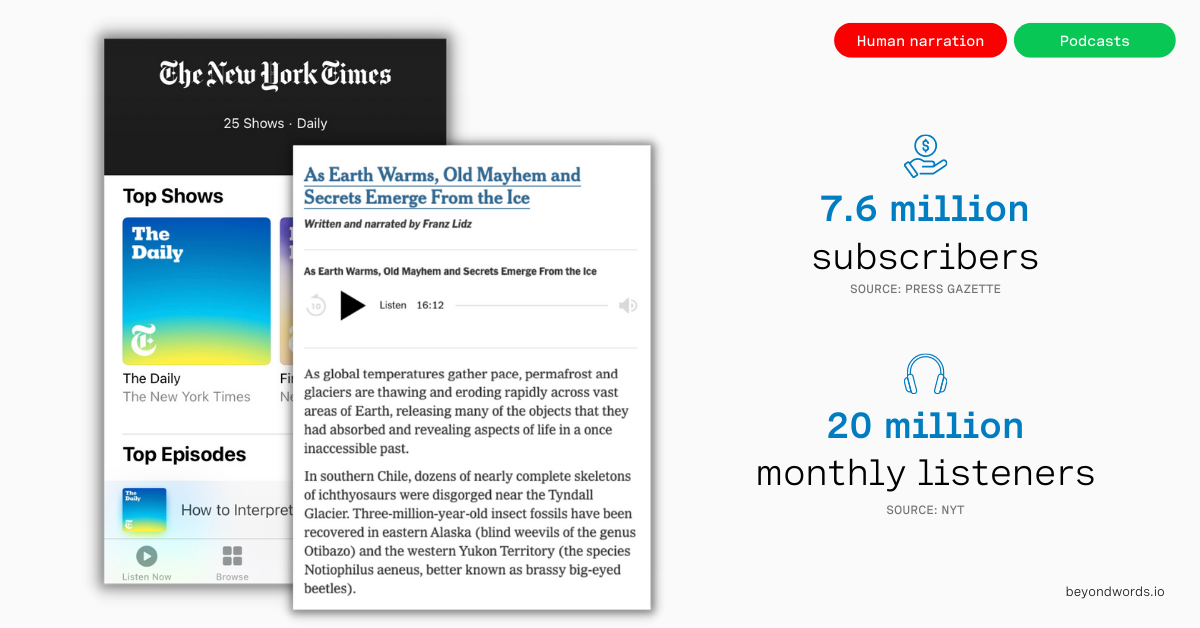 With 7.6 million subscribers as of September 2021, The New York Times is the world leader in digital news subscriptions.² It's also a major force in audio journalism, reaching around 20 million listeners a month.³
The publication is currently testing New York Times Audio, an app that brings together "audio journalism and storytelling, as well as narrated articles, podcasts and audio content from a slate of premier publishers".⁴
The Daily, its flagship podcast and audio newsletter, reaches around 4 million listeners every day — that's almost twice the print edition's peak circulation. Chief executive Meredith Kopit Levien said: "It's helpful in driving affinity to the brand. It's harder to track directly how it drops people into the core news subscription funnel, but we have every reason to believe it does, given how our results have improved.
"What I would say on audio is that's a place where we think there's going to be real demand at high CPM for some time to come, and our product set is expanding," said Kopit Levien. "I think audio will be something to watch in our ad business for some time to come."⁵
Learn more: Why audio content is booming
The Washington Post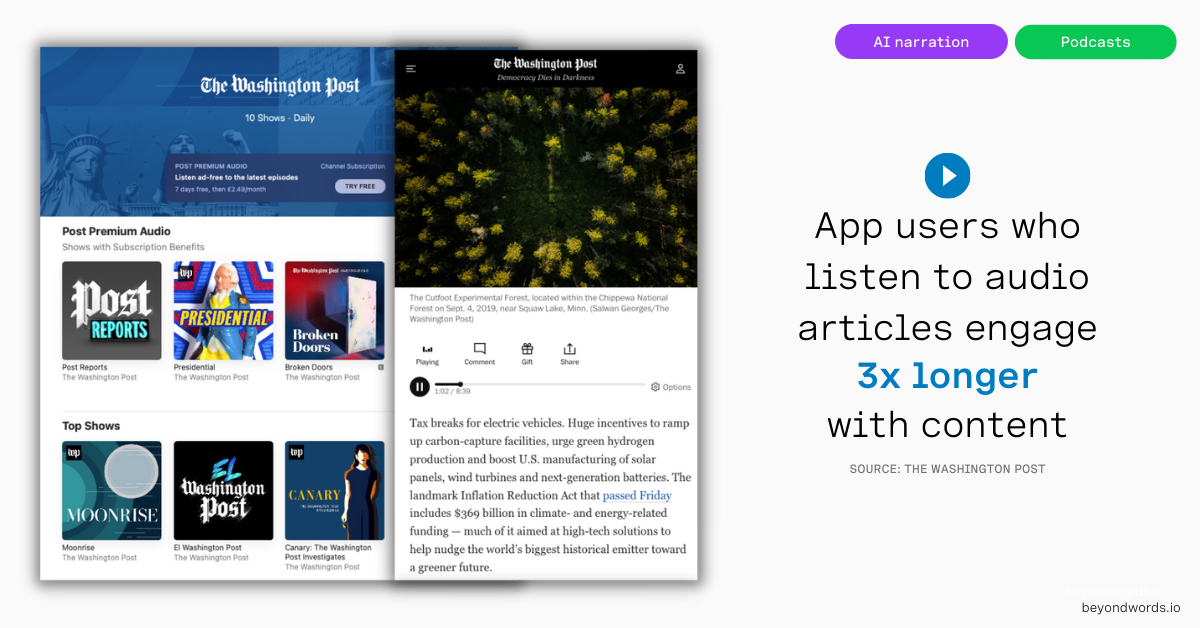 With 3 million subscribers as of November 2020, The Washington Post is the second biggest news subscription service worldwide.⁶
In 2020, readers who listened to audio articles on The Washington Post's apps engaged more than three times longer with their content. This persuaded the publication to adopt voice AI, so that they could deliver audio articles at a larger scale.⁷
"We conducted user research and learned that users want to stay informed but are busy, so they appreciate an option to get up to speed on the latest news developments while cooking dinner, running errands or exercising," said Emily Chow, director of site product.⁸
"What we've learned from users is that they listen to the news while doing other things, and are consuming far more content than they would normally," said product manager Leila Siddique.⁹
Learn more: How AI audio fits into your publishing workflow
The Irish Times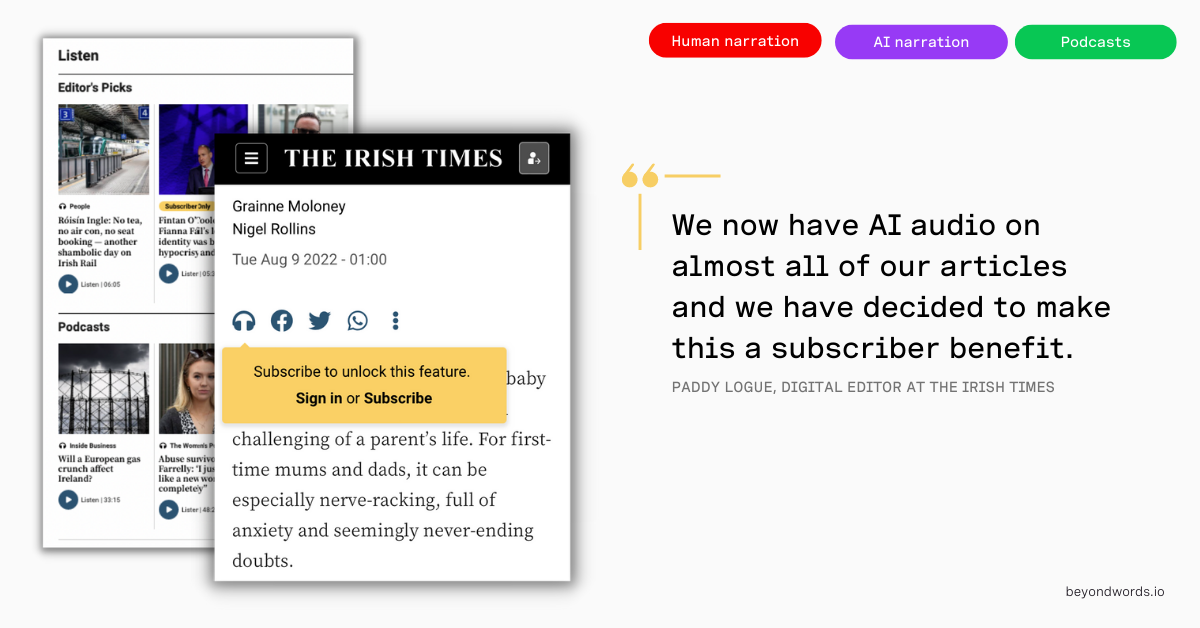 The Irish Times is the most popular digital news subscription in Ireland, with 39% of all subscribers saying they're signed up.¹⁰ The publication's 'Listen' brand plays an important role in the publication's revenue strategy, helping them to increase conversions and reduce churn.
Using a BeyondWords integration with Arc XP, The Irish Times began offering automated audio articles in 2019. They now use an Irish-accented voice from our library to deliver engaging narration on their website and app, as well as distributing their human-read audio through our platform.
"We now have AI audio on almost all of our articles and we have decided to make this a subscriber benefit. When a user clicks the icon to listen they are prompted to log in or subscribe," said digital editor Paddy Logue. "We see it as a major part of a more holistic audio offering."
The Wall Street Journal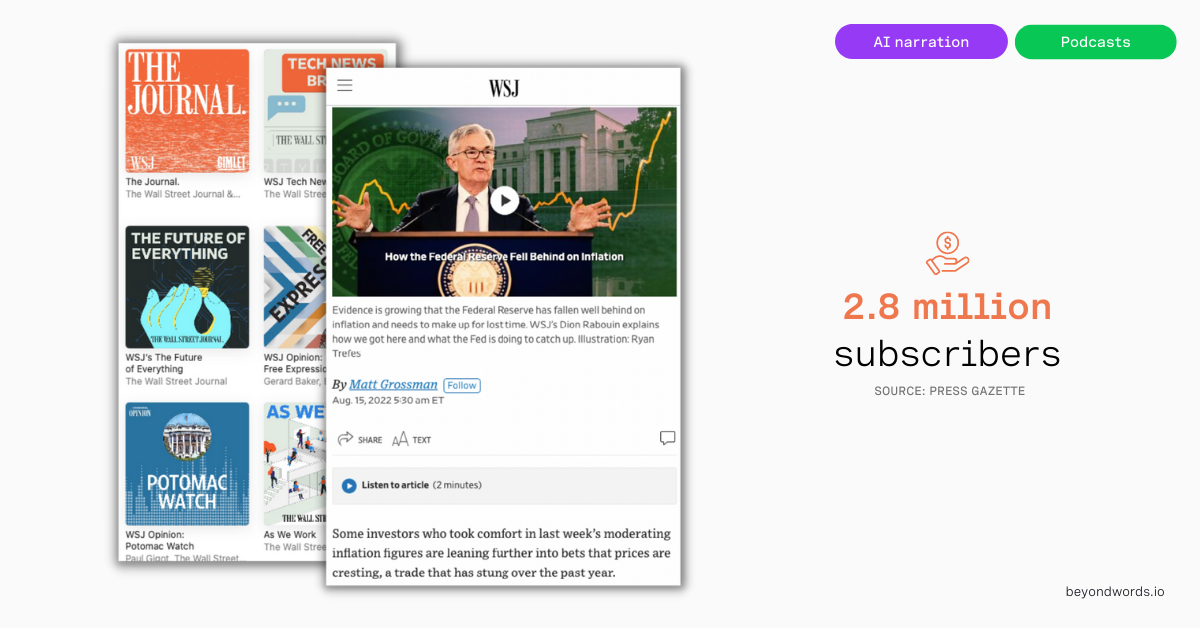 With 2.8 million subscribers as of September 2021, The Wall Street Journal is the third biggest news subscription service globally.¹¹ The publication has been pretty quiet regarding its audio strategy and results, but it delivers audio versions of most articles using AI voices.
The Economist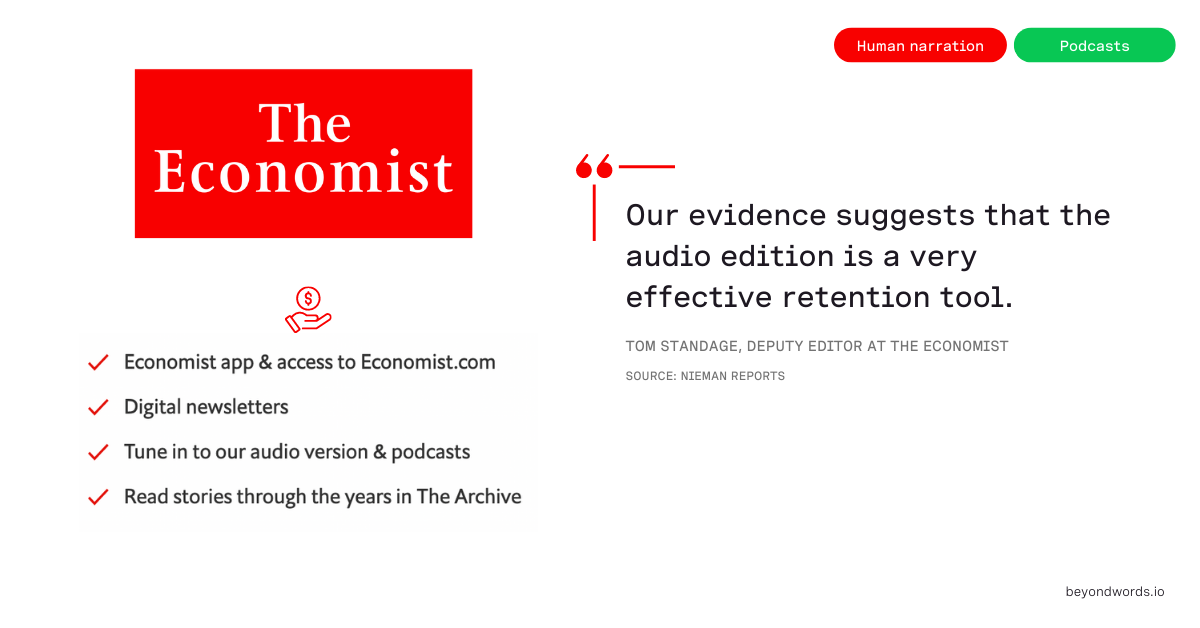 The first major publication to invest in an audio edition, The Economist has long flown the flag for listenable journalism. It all began when the publication identified a problem it called 'unread guilt factor': subscribers were canceling because they didn't have enough time to read.¹²
"The idea is just to leave it up to the reader to decide what the most convenient form of consuming the content is, and in many situations that will be audio," said Deputy Editor Tom Standage.¹³ "Our evidence suggests that the audio edition is a very effective retention tool. Once you come to rely on it, you won't unsubscribe."¹⁴
Aftenposten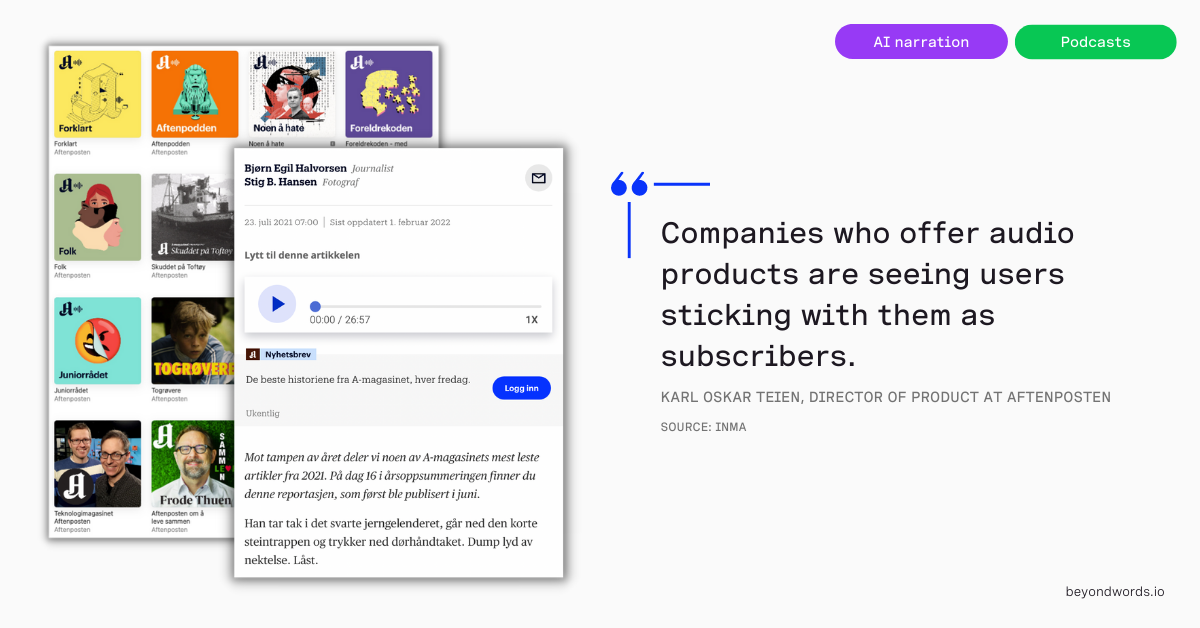 Norway's largest news publication, Aftenposten, has more than 160,000 paying podcast subscribers.¹⁵ Its success with audio motivated investment in article narration, and the company opted for voice AI rather than human-read audio so that they could produce voice over at scale.
"If all of a sudden the audio appears in some articles, but not all of them it can cause frustration," said Karl Oskar Teien, director of product at Aftenposten.¹⁶ "We want to give our readers the ability to play every article."
Aftenposten partnered with BeyondWords to create an AI voice clone of its main podcast host and automate the audio publishing process. "Companies who offer audio products are seeing users sticking with them as subscribers," said Teien.¹⁷ "For many users, the audio-first world is already here."
Zetland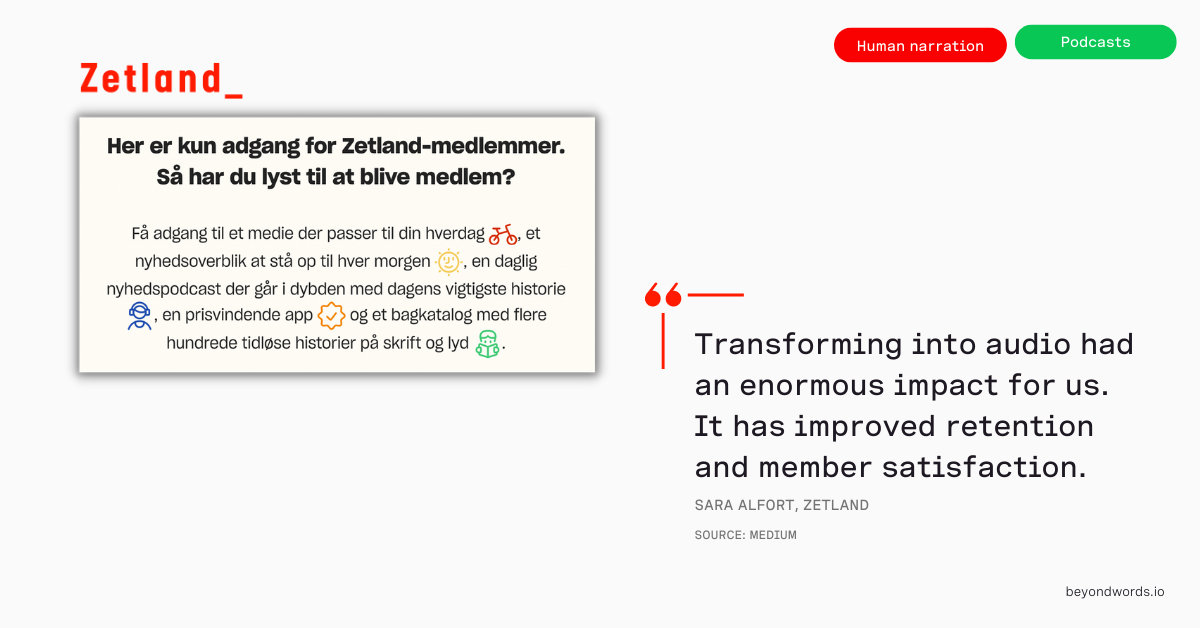 Danish magazine Zetland is one of the biggest success stories in audio journalism. They began testing narration in 2016 at their readers' request and never looked back — by 2020, 80% of all article consumption would be through audio.¹⁸
"Transforming into audio had an enormous impact for us. It has improved retention and member satisfaction. Listeners consume more, they stay longer with each story and it has also brought us an increased feeling of loyalty and commitment," wrote Zetland's Sara Alfort.¹⁹
Tortoise Media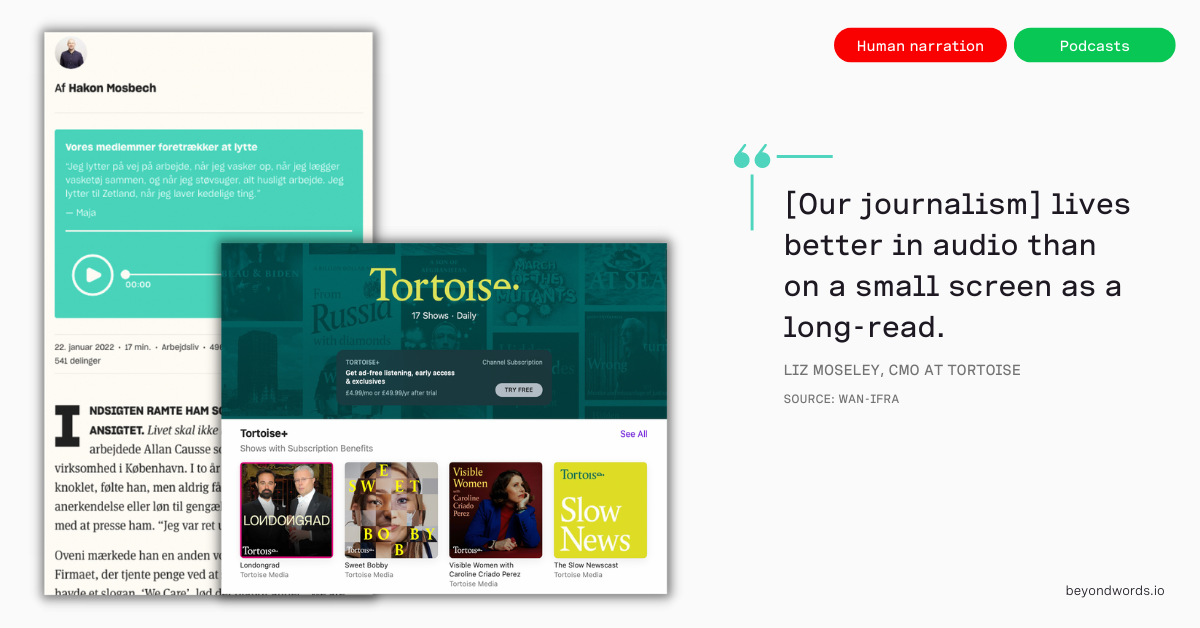 Tortoise Media has focussed on slow news and made audio central to the package. With dedicated Read, Listen, and Watch sections on-site, they effectively direct audiences to their preferred formats and prompt them to become members.
"What we found is that our journalism, our slow, narrative-led stories, is a formula that lives better in audio than on a small screen as a long-read," said Liz Moseley, CMO at Tortoise.²⁰
The publisher also reaches listeners through podcast platforms, which is key to attracting younger audiences. While the average Tortoise member is aged 39, their typical podcast listener is 28.²¹ The media company even offers a dedicated Tortoise+ subscription in Apple Podcasts.
Editor Basia Cummings said: "It became clear [...] that we were building a large off-platform listenership. Subscriptions enabled us to bring those listeners closer to our newsroom and give them a richer listening experience."
The Japan Times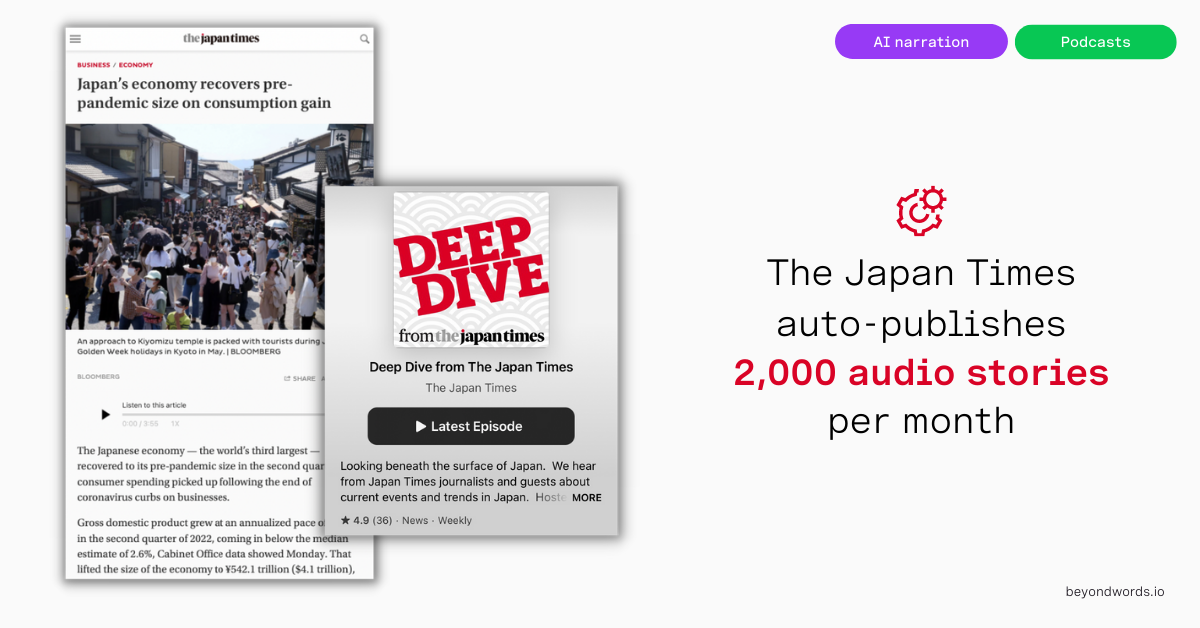 The Japan Times offers audio articles as a subscriber perk, using the BeyondWords API to produce around 2,000 stories a month.
"Since we are an English-language publication in Japan, we have a good number of non-native readers who find the audio component to be helpful for language study. But even for native speakers who simply want to listen to content instead of read it, I think it is definitely an attractive feature," said Mark Thompson, deputy managing editor.
Learn more: 5 reasons why people listen to audio content
BBC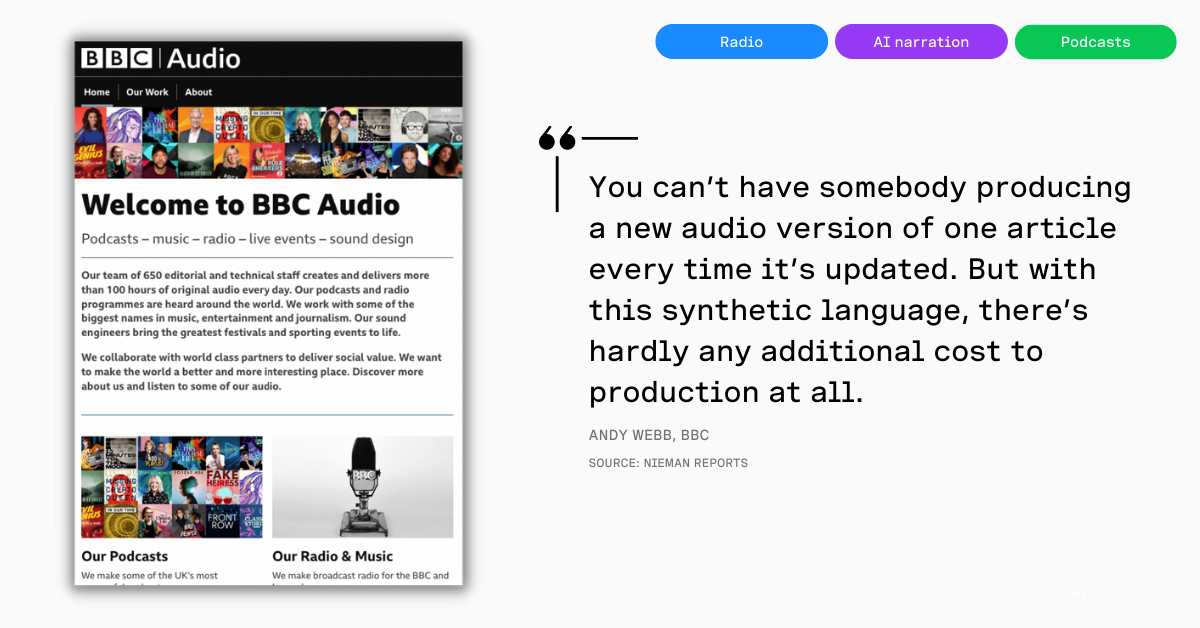 The BBC is the biggest English-language news site in the world.²² It delivers more than 100 hours of original audio every day through the likes of podcasts and radio,²³ and has more recently explored article narration using voice AI.
"It will offer our readers an alternative experience, one which enables them to listen to our content as well as read and watch it. We have seen through the success of our podcast business across World Service that the demand for audio and audio based propositions shows no signs of slowing down and this allows our readers to be able to multitask should they wish to do so," said Errol Baran from BBC Global News.²⁴
The broadcaster has acknowledged the value in using text-to-speech, as opposed to human-read audio, when it comes to evolving stories in particular.
Andy Webb, head of product for the BBC's voice and artificial intelligence team, said: "You can't have somebody producing a new audio version of one article every time it's updated. But with this synthetic language, there's hardly any additional cost to production at all."²⁵
Berlingske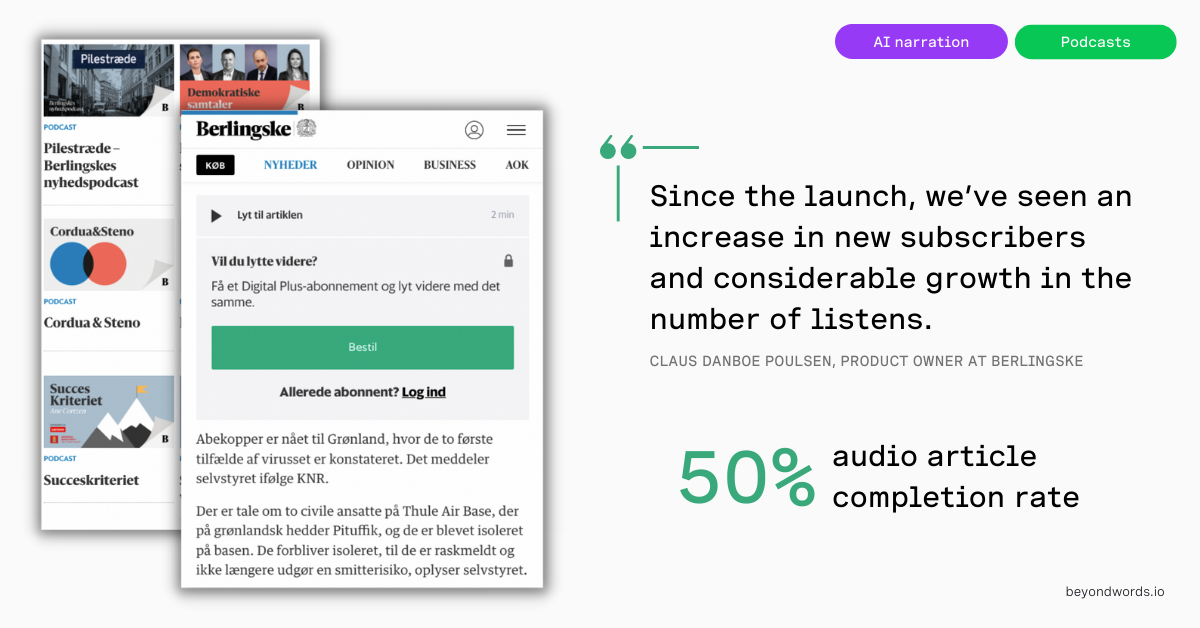 Berlingske, one of Denmark's dominant news brands, uses the BeyondWords text-to-speech API to publish audio versions automatically. The narrative feature is exclusive to subscribers, and the paywalled audio player has been specially designed to drive conversions.
"Since the launch, we've seen an increase in new subscribers and considerable growth in the number of listens. We are also very satisfied with the completion rate, which reaches around 50% on average," said product owner Claus Danboe Poulsen.
Harvard Business Review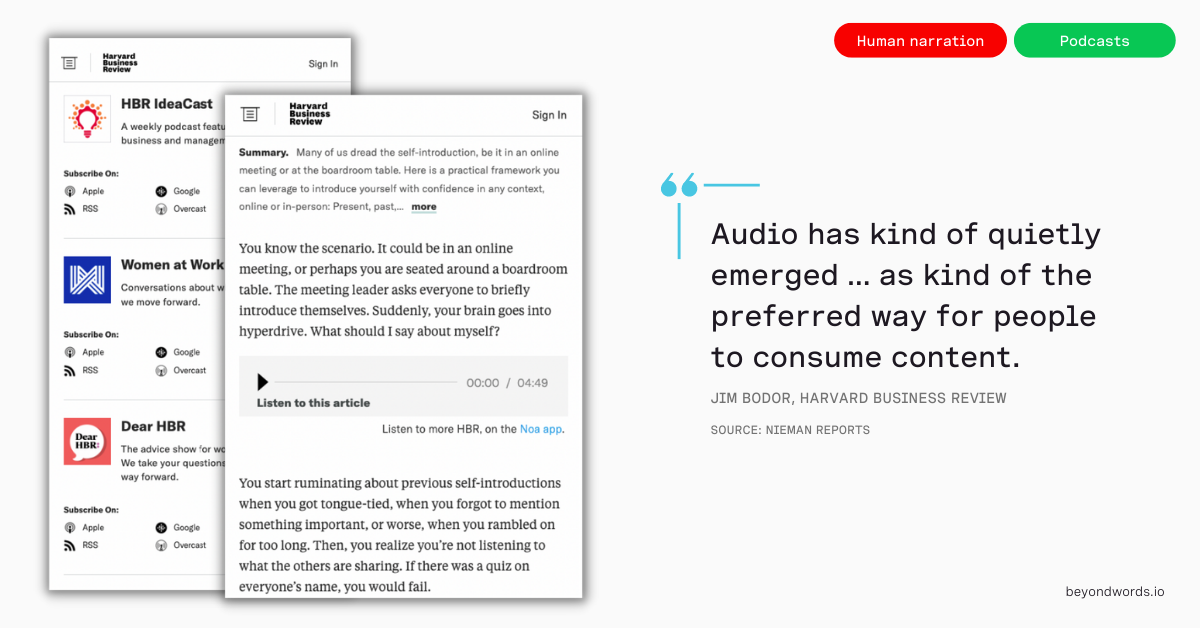 After learning that subscribers were saving their articles to Pocket then using the app's text-to-speech feature to hear them read aloud, Harvard Business Review decided to take control of their audio UX. The publisher partnered with a third-party app to make selected feature articles available in audio.²⁶
Jim Bodor, the managing director of digital product strategy for HBR, believes that audio has "quietly emerged [as] the preferred way for people to consume content". It's little wonder, then, that the magazine also produces and distributes a library of podcasts.
The New Yorker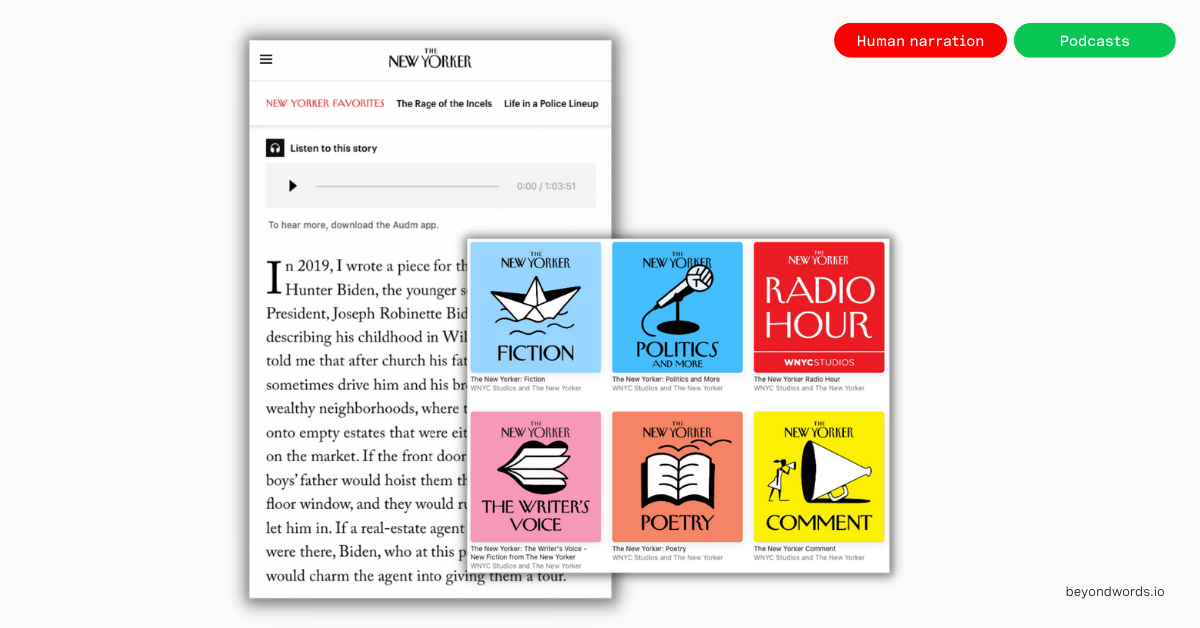 The New Yorker has partnered with a third-party app to make selected stories available in audio. The magazine also offers ad-supported podcasts, which are available through its own website and apps as well as platforms like Apple Podcasts, Spotify, and Audible.
Bloomberg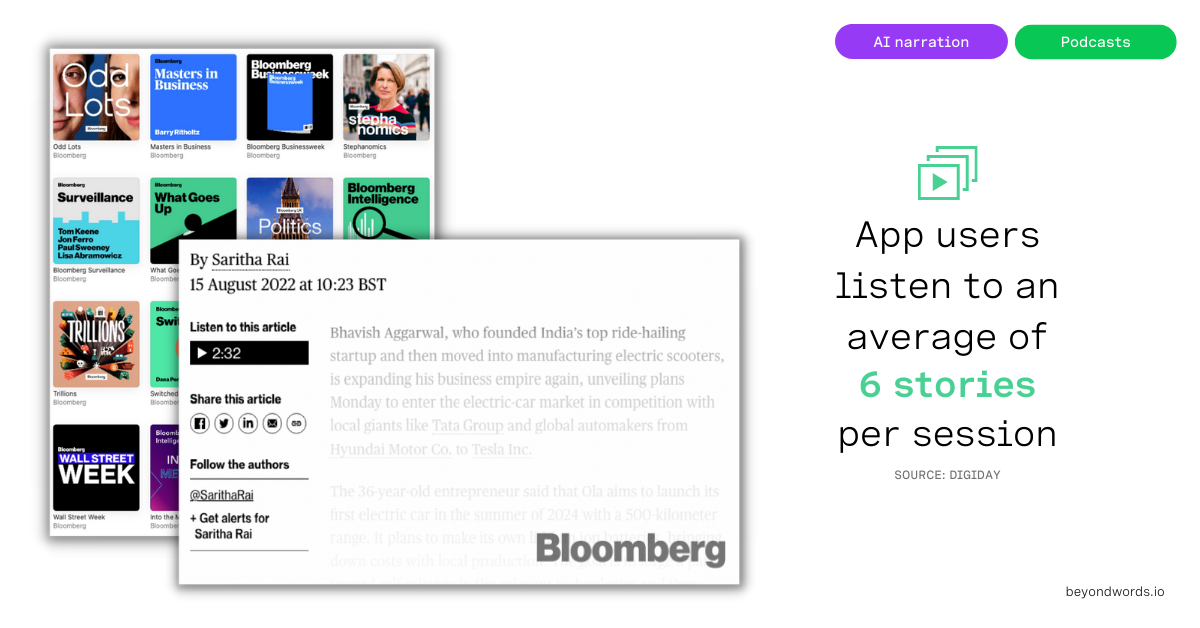 Bloomberg uses text-to-speech to deliver audio narration at scale. This means that users can listen to any article on the website or app. In 2018, global chief product officer Julia Beizer said that app users listen to an average of six stories per session, showing just how well audio drives engagement.²⁷
"Audio is particularly interesting for our audience because of that multitasking utility, that is a real news use case. The delivery of journalism is changing to meet this moment, audio for a multitasking audience a huge tool in our toolkit," said Beizer.
News24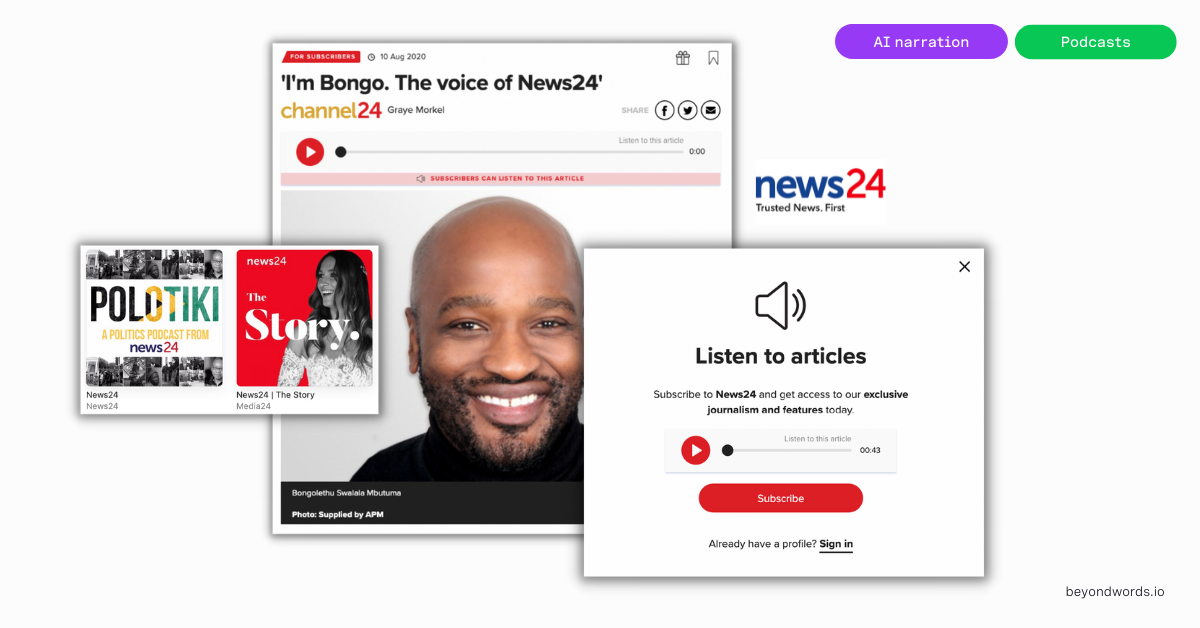 News24 is the most popular website in South Africa, with 11.6 million unique browsers in June 2022.²⁸ Automated audio narration is one of the key features helping convert visitors into subscribers.
In 2020, the publication partnered with BeyondWords to clone the voice of Bongolethu Swalala Mbutuma, a South African voice actor. This AI voice narrates almost all articles on the site, exclusively for paying users.²⁹
"The synthetic voice we developed with BeyondWords handles local names better than anything we've heard before. It's much more engaging to listen to a voice that sounds like our brand," said Kelly Anderson, deputy site editor at News24.
Sister publication Netwerk24 also uses a custom AI voice to attract and retain subscribers. Created by BeyondWords using recordings from broadcaster and voice actor Sue Pyler, the voice provides accurate and engaging voice over for the publication's Afrikaans content.³⁰
Learn more: How to choose the best AI voice for any audio
Make your stories listenable
Listening habits aren't going anywhere, and it won't be long until audiences expect audio on every article. Launching read-aloud functionality now not only means capitalizing on the benefits sooner, but building a listenership and sonic brand that pays dividends in the future.
You don't need The Economist's resources to take advantage.
With BeyondWords, you can fully automate the audio publishing process. Engaging narration is available within minutes of publishing and stays in sync as your stories evolve. Plus, analytics and monetization opportunities are built in, and it's all for a fraction of the cost of human voice over.
Book a meeting with our team to learn more.
---