Modern audiences are engaging with audio content like never before.
Spoken-word audio's share of digital listening increased by 40% from 2014 to 2021. Almost half of over-13s in the US are listening for 2 hours and 6 minutes every day.¹ Podcasts, audiobooks, and narrated content are more prevalent and popular than ever.
Listening needs and preferences are nothing new, so what's behind this audio boom? It's something we call the audio flywheel.
What is the audio flywheel?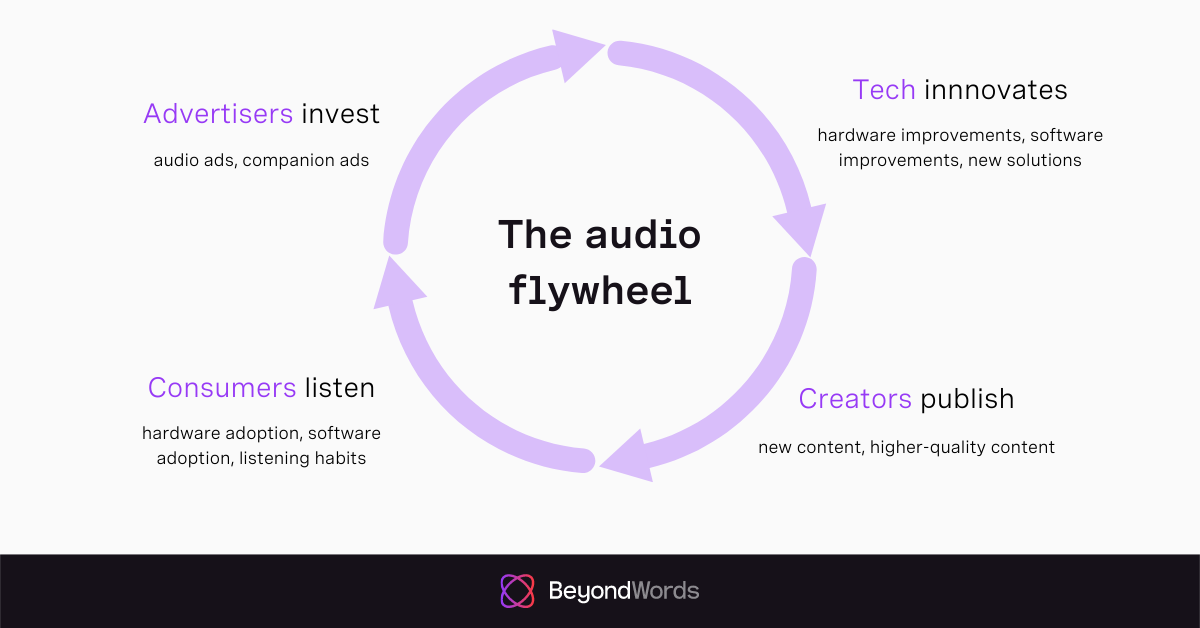 The flywheel effect is a business metaphor developed by Jim Collins.² It suggests that multiple small efforts are required to build momentum, and that momentum will then perpetuate itself.
We can apply this concept to audio content. Various factors have contributed to the rise of audio, and now that it has built momentum, its growth is showing no signs of slowing.
Consumers, creators, advertisers, and technology companies all form part of the audio flywheel. Developments in one area have a knock-on effect in others, forming a positive feedback loop.
Getting the wheel turning
One of the main contributing factors to the rise of audio was increased accessibility of audio publishing and broadcasting. While the internet made it possible for anyone to share digital audio, hardware and software developments made production more affordable. This empowered more creators to explore the format's potential and attract listeners with new types of content, such as podcasts.
Recently, advancements in text-to-speech have reduced the barriers even further. Our lifelike AI voices and sophisticated tools provide a practical alternative to human voiceover, allowing creators to produce engaging spoken-word audio quickly, easily, and affordably. This has opened the doors to previously unviable formats, such as audio articles.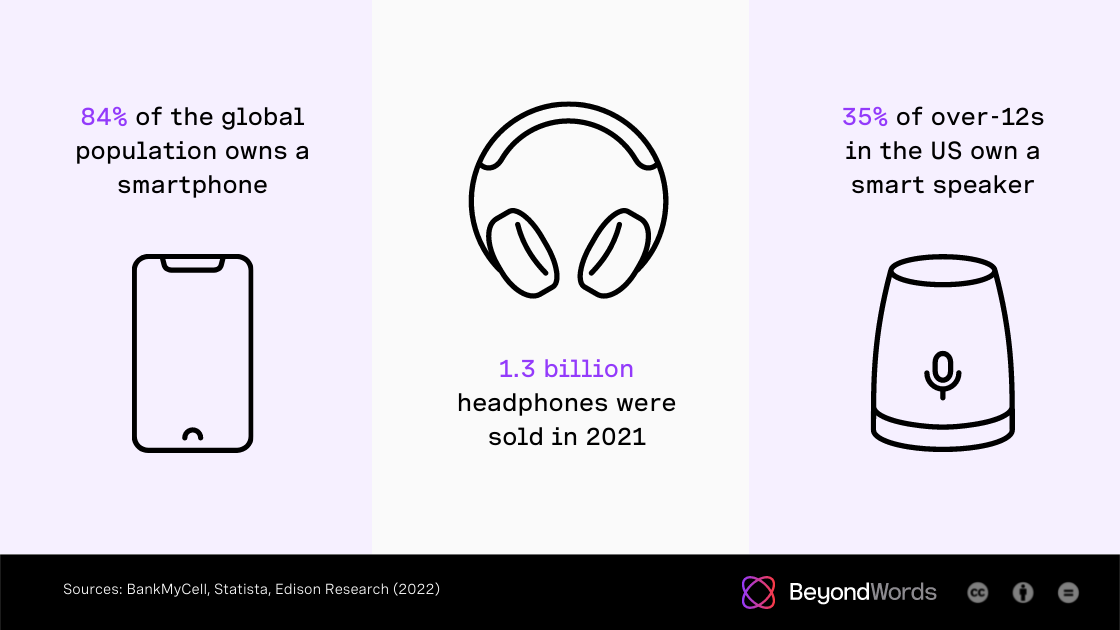 Meanwhile, ownership of audio-enabled hardware has rocketed. Smartphones and AirPods make it easy to listen anywhere, while bluetooth speakers and smart speakers promote listening in the home. Improved in-car connectivity means listening to your own audio while driving is just as convenient as switching on the radio. There has also been widespread adoption of audio apps like Apple Podcasts and Spotify, which are constantly developing new ways to keep listeners engaged.
Changing media habits
Consumers began adopting new media habits, too. Most importantly, a proclivity for multitasking. Technology gives us 24/7 access to information, and our brains deliver dopamine when we learn something new or feel productive.³ So, we're prone to filling every minute of spare time with content consumption.
Audio is the most multitasker-friendly form of media: we can listen while we're driving, exercising, cooking, cleaning, getting ready…the list is endless. Combine this with the increased availability and accessibility of audio content, and it's little wonder it's become the format of choice for busy people. 71% of monthly spoken-word audio listeners say the ability to multitask plays a role in their habit.¹
Concerns around screen time are also starting to play more of a role in audio consumption. More than half of Americans are on their phone more than they'd like, and around a third are taking steps to curb their habit.⁴ As a result, more are turning to audio formats, which fulfill their desire for information and entertainment without gluing their eyes to a screen.
Audio goes commercial
As audiences spent more time with digital audio, advertisers came along with them. And they saw impressive results — one Nielsen study found audio ads delivered a 24% higher recall than display ads and were twice as likely to drive purchase intent.⁵
US podcast advertising revenues exceeded $1.4 billion in 2021, equivalent to 72% year-on-year growth — twice that of the total internet advertising market. The IAB said this was fueled by "a continually expanding user base consuming a growing library of engaging and diverse content".⁶
The subscription economy has also been picking up pace. The proportion of Americans subscribed to an audio service reached 45% in 2021 — double the amount six years prior.⁷ The proportion paying for online news followed a similar trend, rising from 9% to 19%.⁸
Meanwhile, services like Patreon and Apple Podcasts Subscriptions launched, catering to the demand for podcast subscriptions. 25% of US listeners and 14% of UK listeners say they're likely to pay money to listen to a podcast this year.⁹
This subscription trend has presented an alternative monetization opportunity to creators, emboldening more to make the leap into audio. 79% of commercial publishers say subscription will be one of their most important revenue priorities in 2022.¹⁰
Join the revolution
The sooner you offer audio content, the sooner you can capitalize on the audio flywheel's momentum. And if you don't take control of your audio UX, it might not be long before someone else does.
Our text-to-speech platform empowers publishers to deliver engaging spoken-word audio content without undue effort or expense. You can measure its impact on engagement through audio analytics or monetize it directly through audio ads and subscriptions.
---