Converting articles into audio is one of the most rewarding audience engagement strategies. Not only can adding narration be quick, easy, and affordable, but people are listening more than ever.
Keep reading or listening to learn about the 7 key benefits of converting articles into audio:
1. Improve engagement
Making your articles available in audio allows you to better engage audiences with listening needs and preferences.
For example, people who are multitasking, prefer listening to reading (or reading and listening simultaneously), have certain vision or reading difficulties, or want to take a break from their screen are more likely to stick around when audio narration is available.
"Good marketing is about engaging with people the way they want you to." — Rachel Worsley, CEO at Neurodiversity Media¹
Plus, studies suggest that audio can resonate more deeply than other content formats. UCL found that "listening to audiobooks elicits a more intense physiological and emotional reaction than watching films or television"², while the National Literacy Trust says that listening can aid comprehension.³
So, when people do opt to listen, they may have a more positive experience with your content. This can have a number of benefits, such as making them more likely to return and recommend your articles to others.
2. Increase traffic
There are many cases where someone will want to listen to an article but not read it. If you cater to this audience and target them through your marketing efforts, you can drive more traffic to your site.
You can promote audio functionality in social media posts, meta descriptions, and many other areas to secure click-through from listeners — not just readers.
Plus, people may be more likely to share and link to your content if it has an audio version, because they understand this makes it accessible and engaging to a wider audience. This can boost your traffic even further.
3. Improve accessibility
Adding audio narration to your articles improves accessibility and inclusivity for people with vision impairments and reading limitations. This includes people with dyslexia, blindness, and low literacy.
Another benefit is that you have control over how your content sounds, because users don't need to resort to screen-reading software, which can provide a poor listening experience.
One of our publishers' readers, Troy Phillips, said: "Audio articles help me get the news easier and faster. I have dyslexia, which makes it hard to read the news. Screen-reading software is unreliable, and I don't always have access to it. So I really appreciated it when my chosen news source started using BeyondWords."
4. Increase subscriptions and reduce churn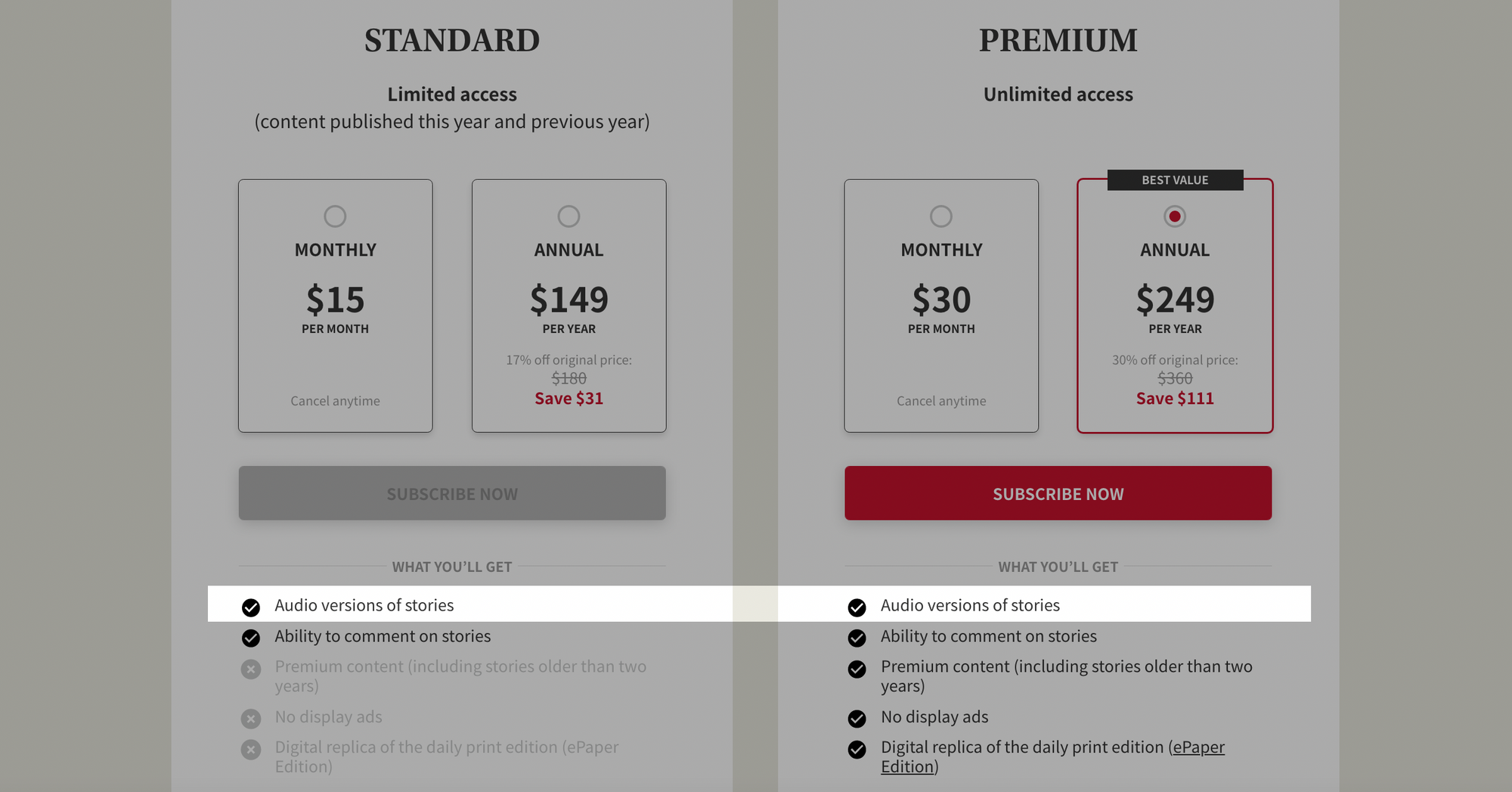 In a subscription-based revenue model, offering audio articles as a subscriber perk can improve your conversion rate:
In the US, 36% of digital news subscribers say one of the main benefits is getting content that is only available to paying customers⁵
In Mexico, access to more audiovisual content is one of the most important factors in digital media subscription decisions⁶
In the UK, 48% of digital news subscribers say they pay for online access because they get a convenient package of news and information⁷
However, a bigger benefit may be reduced subscription churn.
13% of news subscription cancellations result from subscribers having too much to read in too little time.⁸ The Economist's then Head of Strategic Product Development, Denise Law, referred to this as "unread guilt factor" when talking about the publication's move into audio.⁹
When you offer audio, subscribers can consume articles while they're on the go. And because they find it easier to make time for your content, they're more likely to feel that their subscription is justified.
"Our evidence suggests that the audio edition is a very effective retention tool; once you come to rely on it, you won't unsubscribe." — Tom Standage, Deputy Editor at The Economist¹⁰
5. Increase ad revenue
Audio articles can also increase revenue in advertising-based models. This is a knock-on effect of stronger audience and engagement metrics, which can help you:
sell advertising spaces,
secure higher placement fees or commission rates, and
deliver better results for advertisers.
You can even convert sponsored articles into audio, to make these advertising opportunities more appealing and effective.
6. Unlock new revenue streams
Another benefit of converting articles into audio is the potential to unlock new revenue streams.
Audio advertising has worked well in podcasting — it is expected to drive $2 billion in revenues by 2023.¹² And while it is less common in audio articles, some of our publishers have seen success with self-serve audio ads and programmatic advertising.
"It is incumbent on publishers large and small to implement strategies which generate revenue from multiple sources." — Damian Radcliffe, Carolyn S. Chambers Professor in Journalism at the University of Oregon¹²
Paid audio is another option, whether through downloads, donations, or subscriptions. 25% of podcast listeners in the US say they're very or somewhat likely to pay for a podcast in the next 12 months.¹³
Independent creators can monetize audio articles through Substack, as well as platforms like Revue, Patreon, and Ko-fi.
7. Improve your SEO
Adding audio narration to your articles could indirectly benefit your search engine optimization (SEO) strategy. This is another knock-on effect of increased traffic and engagement, positive user experience signals that search engines use to evaluate rank-worthiness.
"If users find [an audio-enabled] page more useful and they recommend it more, that's something that could have an effect [on search rankings]." — John Mueller, Google¹⁴
Publishing audio content can also create new ways for your content to be discovered via search. This gives you more control over branded search results and expands your reach.
For example, if you distribute via Apple Podcasts, your audio articles will be findable through the Apple Podcasts app and iTunes Store. These episodes can then be indexed by podcast search engines like Listen Notes as well as web search engines like Google.
Start converting your articles into audio
You can enjoy all the benefits of converting articles into audio — without the expected effort or expense. With our lifelike AI voices and audio CMS, you'll have everything you need to produce, distribute, analyze, and monetize narrated articles — instantly and at scale.
Create your free account and start engaging listeners today or use the form below to arrange a demo with our team.
---
---