Adding audio narration to your Substack posts can help you gain and retain subscribers — and you don't even have to use your own voice.
Already a BeyondWords user? View our guide on adding BeyondWords audio to Substack.
Why add narration to my Substack posts?
Adding audio narration to your Substack posts can help you reduce unsubscribes by making it easier for subscribers to engage.
When subscribers can't find the time to read your newsletter, they experience what The Economist called "unread guilt factor": they watch unread emails pile up, can no longer justify their subscription, and are more likely to cancel.¹
Northwestern University research backs this theory, citing frequency of consumption as the biggest predictor of subscriber retention in digital news.²
When you provide a listenable version of your newsletter, subscribers are more likely to engage. Audio is generally easier to fit into a busy lifestyle than reading — 71% of Americans listening to more spoken-word audio say it's at least partly because it allows them to multitask.³ It also provides an alternative when subscribers simply aren't in the mood to read.
"Our evidence suggests that the audio edition is a very effective retention tool; once you come to rely on it, you won't unsubscribe." — Tom Standage, Deputy Editor at The Economist⁴
Narration can also help you grow your subscriber list. Making your Substack posts listenable helps you tap into the huge demand for audio content, allowing you to attract and engage people who cannot or will not read — or who simply prefer to listen. Plus, our research suggests that listeners are more valuable than readers.
Creating audio versions of your Substack posts also gives you access to new distribution channels, most notably podcast platforms. This can help you build your following via platforms like Apple Podcasts, Spotify, and Google Podcasts.
Learn more about the benefits of converting articles into audio.
How to create narration for Substack posts
There are three main ways to create audio narration for your Substack posts and newsletter: record yourself, hire a voice artist, or use text-to-speech.
Read or listen on to learn more about the pros and cons of each audio production method.
Record the audio yourself
Pros: Narrating your Substack posts yourself adds a personal touch, which can help you build deeper connections with your audience. It also gives you full control over vocal delivery, although you'll be limited by your voice acting skills.
Cons: You can create an "off-the-cuff" audio version in the time it takes to read your Substack post aloud, using nothing more than your phone or computer. However, if you want professional and engaging narration, you'll need to invest in better production value.
For high-quality sound, you'll need good recording equipment and a suitable recording environment. It will then take you around 40 minutes of recording and 1 hour of editing to create a 20-minute solo podcast, depending on your narration and editing skills.⁵
As a result, producing your own audio can be complex, time-consuming, and expensive. And you may not be able to achieve the production value you desire.
Hire a voice artist
Pros: Professional voice artists should deliver the highest-quality voice narration, helping you portray a professional image and maximize listener engagement.
Cons: Hiring, briefing, and collaborating with professionals can be time-consuming. Plus, unless you agree on a regular publishing schedule, you may find that turnaround times are relatively slow — a significant downside if you publish news content.
Costs may also be high, although you can find well-rated and affordably priced voice artists on platforms like Fiverr.⁶
Use text-to-speech
Pros: Using the BeyondWords Text-to-Speech Editor, you can convert Substack posts into audio in just a few minutes. The associated costs are relatively low, and you can select an AI voice that resonates with your target audience.
You can even use voice cloning to create a custom voice. That way, you can speak directly to your listeners without putting the time and effort into manual recording.
See our step-by-step guide on adding BeyondWords audio to Substack.
Cons: BeyondWords uses natural language processing and advanced AI voices to deliver the highest-quality text-to-speech, but you may find that human-read audio is more emotive and engaging. There are also service fees to consider, although text-to-speech is generally a cost-effective option. With a free account from BeyondWords, you can convert 30,000 characters of text into audio every month — that's around six newsletters!
How to insert audio into Substack posts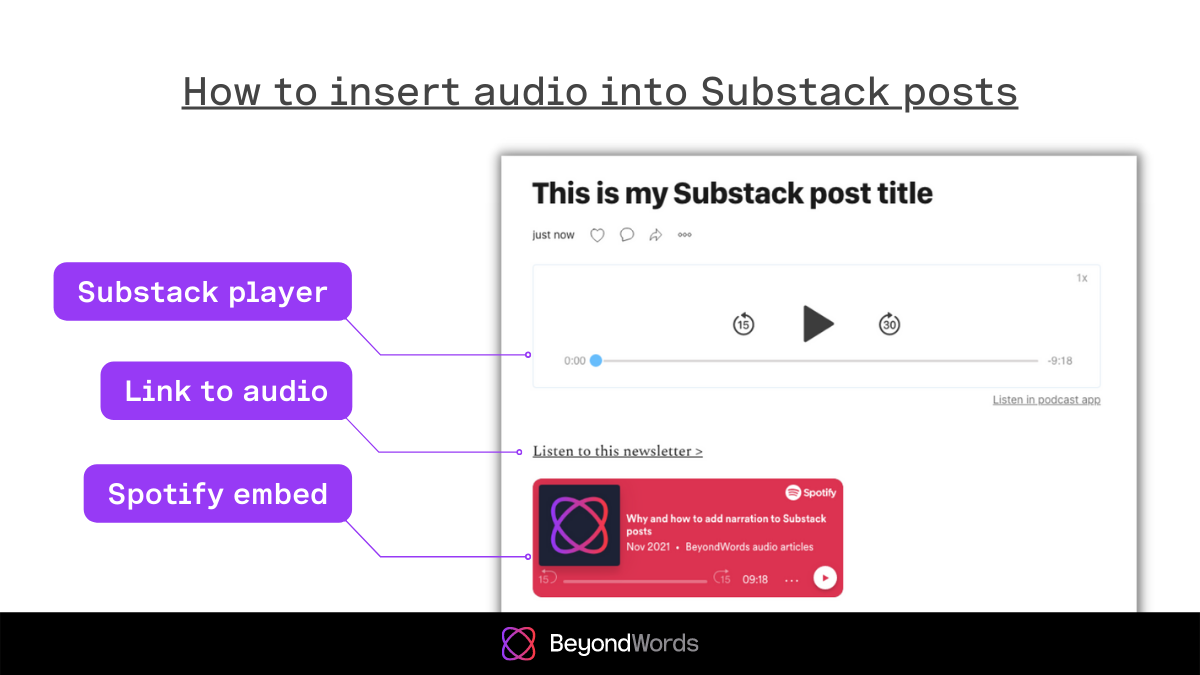 There are three main ways to insert audio into Substack posts:
Link: If your audio is hosted online, you can simply add a link in your Substack post. However, a native audio player will provide a better user experience, allowing users to listen and read in the same place.
Embed from Spotify: Copy and paste a Spotify URL into your draft post, and an audio player will be embedded automatically.
Enable podcasting: This option allows you to record audio directly, upload mp3 files, or import existing podcasts. Audio will be presented in the Substack web player. (You will technically create an 'episode' rather than a 'post'.)
See our guide for step-by-step instructions on adding BeyondWords audio to Substack.
Please note: Subscribers will see audio player previews in emails, but they will need to click through to the web version in order to listen: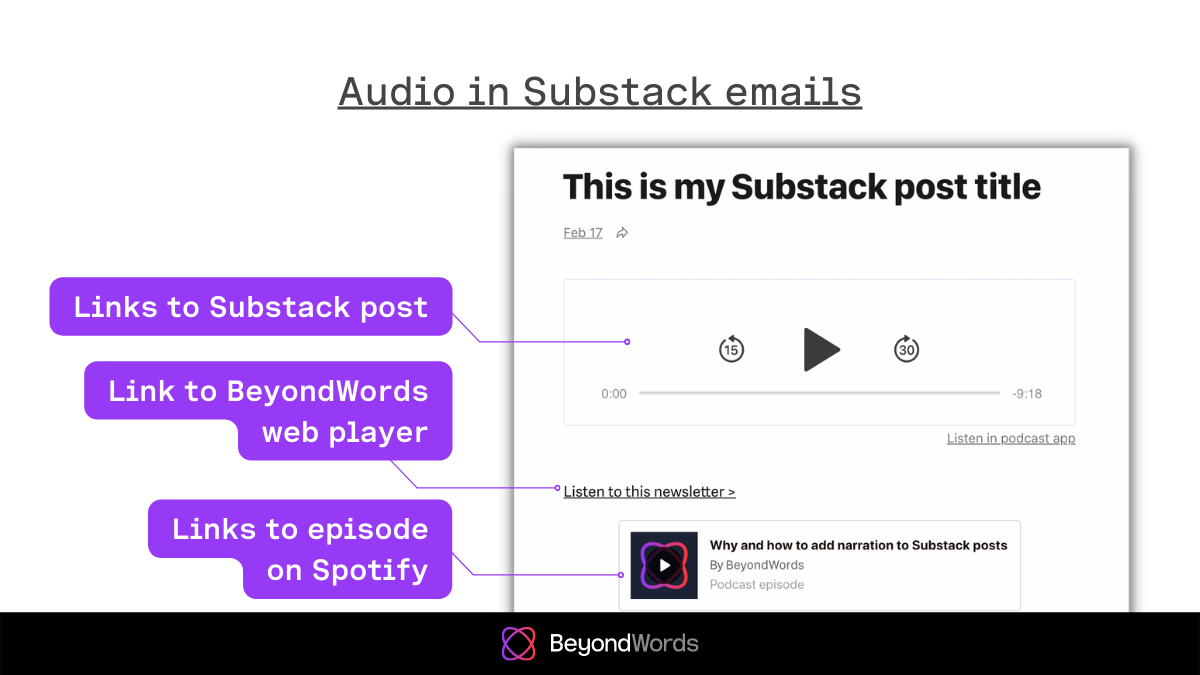 How to enable podcasting on Substack
Sign into Substack and go to 'Settings'
Check the box under 'Enable podcasting'
To create an audio post (episode), go to your dashboard then 'Posts' > 'Create' > 'New episode'. You can then compose your post and add audio via:
'Record episode audio': Press record, start talking, then press stop. You cannot edit your audio, but you can delete and then re-record.
'Upload mp3 episode audio': This allows you to upload pre-recorded audio.
To add episodes to a separate section (or sections) of your publication, go to 'Add a section' > 'Add new' > 'Podcast'. Complete the details and select 'Create podcast'. You can then select this section when drafting your post or episode. (Learn more about sections in Substack.)
To distribute Substack-hosted audio on podcast platforms, edit the 'Podcast Settings' for the publication or section then submit the 'Podcast RSS feed URL' to your chosen podcast platform(s).
How to import existing podcasts into Substack
This is useful if you wish to clone the audio content from an existing podcast feed in Substack. Imported podcasts will be published automatically and can be edited from the 'Posts' section of your dashboard.
Sign into your Substack dashboard and go to 'Settings'
Go to 'Import an existing podcast RSS feed' > 'Import Existing Podcast'
Enter your podcast RSS feed URL and select 'Submit', then follow the instructions
To import existing podcasts into an existing section in Substack:
Sign into your Substack dashboard and go to 'Settings' > 'Add a section'
Go to the Podcast section you want to import to and select '...' > 'Edit'
Select 'Import Existing Podcast' then follow the instructions
To import existing podcasts into a new section in Substack:
Sign into your Substack dashboard and go to Settings
Go to 'Add a section' > 'Add new' > 'Podcast'
Fill in the details then select 'Create podcast'
Select the '...' next to your new section then select 'Edit'
Select 'Import Existing Podcast' then follow the instructions
Create your Substack audio for free
BeyondWords makes it quick and easy to convert Substack posts into audio. Create your free account and make your newsletter listenable today.
If you need more information about audio on Substack, you might find these resources helpful:
Any questions or feedback? Email [email protected].
---