You package financial research into crisp and concise reports because your clients' time is precious. For the same reason, you should make your insights available in audio.
Listening enables engagement and multitasking where reading doesn't. Clients can consume audio briefings while they're driving to work or grabbing lunch, for example. They'll have more opportunity to consume your valuable research and get the most from your products.
It's also the practical option when they're away from their computer. Who wants to navigate a PDF on their phone, with awkward zooming and endless scrolling, when they can put in their earbuds instead? They'll no doubt appreciate the much-needed screen break.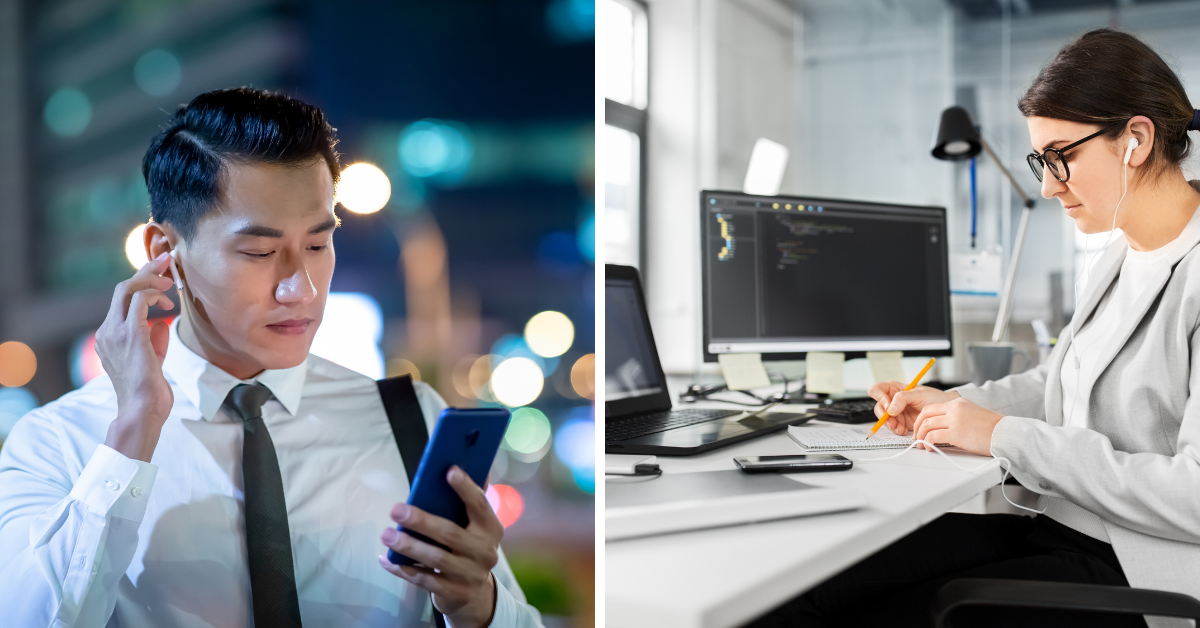 Convenience is particularly important when you consider the limited timespan of most financial research. If clients don't get round to your daily briefing today, they're unlikely to revisit it tomorrow. So, you really need to capitalize on every engagement opportunity.
Audio can also improve accessibility, and many simply prefer listening or audio-assisted reading. Approximately 30% of Americans are auditory learners¹, and 60% of listeners say they process audio information more efficiently.²
So, as well as being more willing and able to engage in the first place, listeners may extract more value from your research. That will translate into better retention and conversion.
The financial audio landscape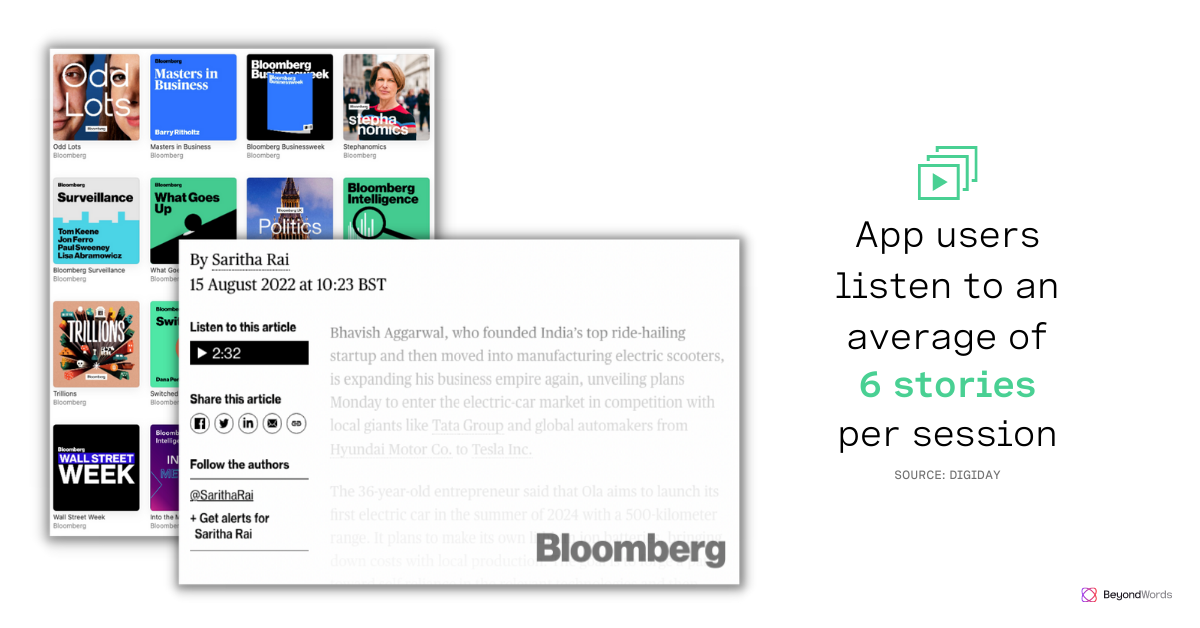 Many financial services firms are already tapping into the demand for audio insights, using the format to demonstrate their digital-first approach and better engage target audiences.
Since 2018, JPMorgan has delivered its annual letter to shareholders in audio.³ Not only is the additional format user-friendly, but its Chairman and CEO's voice lends the message personality and authenticity. The company also publishes audio commentaries from Global Liquidity Portfolio Managers on its website.⁴
UBS⁵, Morgan Stanley⁶, and Goldman Sachs⁷ are just some of the major players reaching listeners through podcast platforms like Spotify and Apple Podcasts. And their presence is attracting even more finance professionals to these apps, to the potential benefit of the entire finance industry.
Meanwhile, publications like The Wall Street Journal and Bloomberg are using voice AI to deliver audio articles at scale on their websites and apps. Bain and Coronation are two of the financial services firms using BeyondWords text-to-speech to make their expert analysis and insights audible.
The practical approach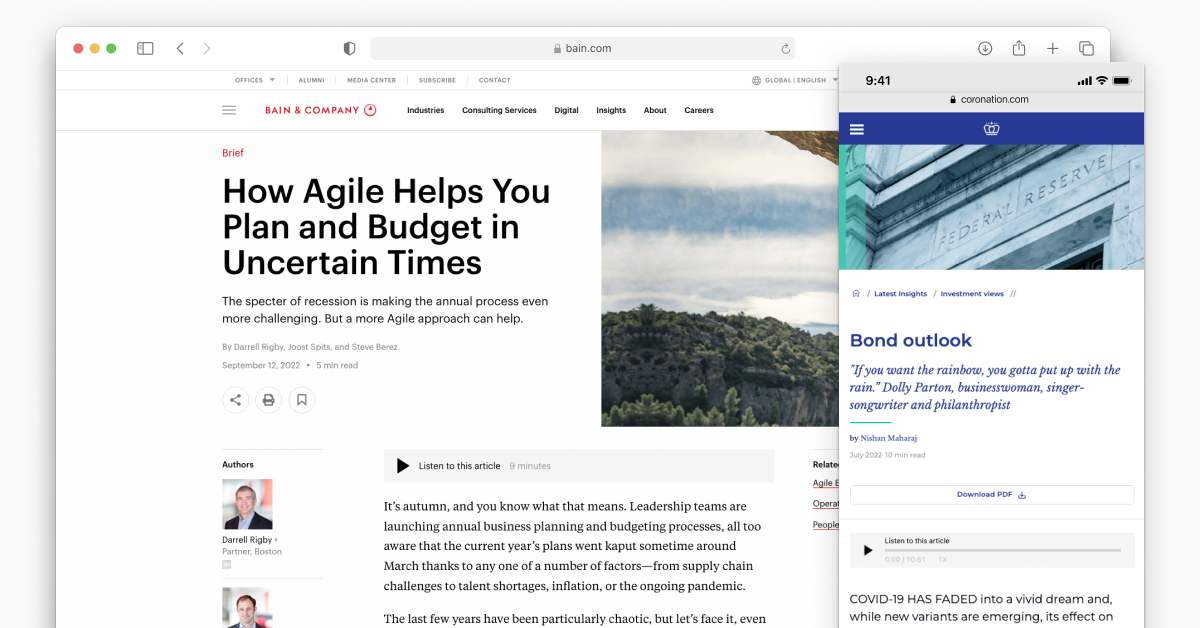 The case for audio hasn't only been strengthened by widespread adoption of smartphones and digital listening habits: advancements in voice AI have significantly improved the ease, cost, and speed of implementation.
Using our API, WordPress, or Eidosmedia integration in combination with our player SDKs, financial services firms can make insights on their website or app listenable automatically. Audio is typically embedded within just a few minutes of publishing and dynamically updated.
Audio reports and briefings can be shared via URL too — ideal for emails and PDFs. We also recommend that you auto-distribute via podcast feed to tap into existing audio habits. Subscribers on platforms like Spotify and Apple Podcasts will receive the latest episodes direct to their app, with notifications prompting engagement. You can even build custom feeds or playlists to group audio by category.
Research teams also have the option to create or edit audio in our Text-to-Speech Editor. Intros, outros, and sound effects are easily inserted to enhance the listening experience and strengthen sonic branding.
Firms get access to our AI voice library, but may prefer to create and use voice clones of their financial analysts or other stakeholders. This can lend the briefings more credibility and assist with relationship-building, without additional demand on already-busy staff.
All voices are supported by our customizable natural language processing algorithms, which ensure accurate and human-like text-to-speech conversion. You can even add aliases to handle any domain-specific abbreviations, acronyms, or spellings.
Try it out for yourself
Source text from Morningstar: "While Twitter is different from most social media platforms, this deal indicates that discounts given to stocks like Meta, Pinterest, and Snap relative to our fair value estimates are not warranted. Based on FactSet consensus estimates, Musk is purchasing Twitter for 7.4 times and 34.1 times 2023 sales and adjusted EBITDA, respectively. Five-star-rated Meta is trading at 2023 sales and adjusted EBITDA multiples of 2.6 and 6, respectively. The faster-growing Pinterest is trading at 4.1 and 25.2 times while Snap is at 2.9 and 19.4 times, respectively. Our fair value estimates for Meta, Pinterest, and Snap remain at US$346, US$46, and US$27, which represent price/fair value estimates of 0.41, 0.54, and 0.39, respectively."
Financial services firms like Bain and Coronation use BeyondWords to convert financial research into accessible and effective audio experiences that strengthen ROI. Complete the form below to book a meeting and discuss your requirements with our team.
Sources
Buşan A. M. (2014). Learning styles of medical students - implications in education. Current health sciences journal, 40(2), 104–110. https://doi.org/10.12865/CHSJ.40.02.04
The Spoken Word Audio Report 2021, Edison Research, published November 2021
Chairman & CEO Letter to Shareholders, Annual Report 2018, JPMorgan, accessed October 2022
Audio Commentaries, JPMorgan, accessed October 2022
UBS On-Air podcasts, UBS, accessed October 2022
Morgan Stanley Podcasts, Morgan Stanley, accessed October 2022
Goldman Sachs Podcasts, Goldman Sachs, accessed October 2022
---