The Irish Times (irishtimes.com) is the most popular digital news subscription in Ireland, with 39% of all subscribers saying they're signed up. It's also one of the most valued and trusted news brands in the country.¹
One of the many features contributing to its success? Audio.
We spoke to Paddy Logue, Digital Editor at The Irish Times, about the publication's adoption of voice AI and its role in a wider news audio strategy.
The move into audio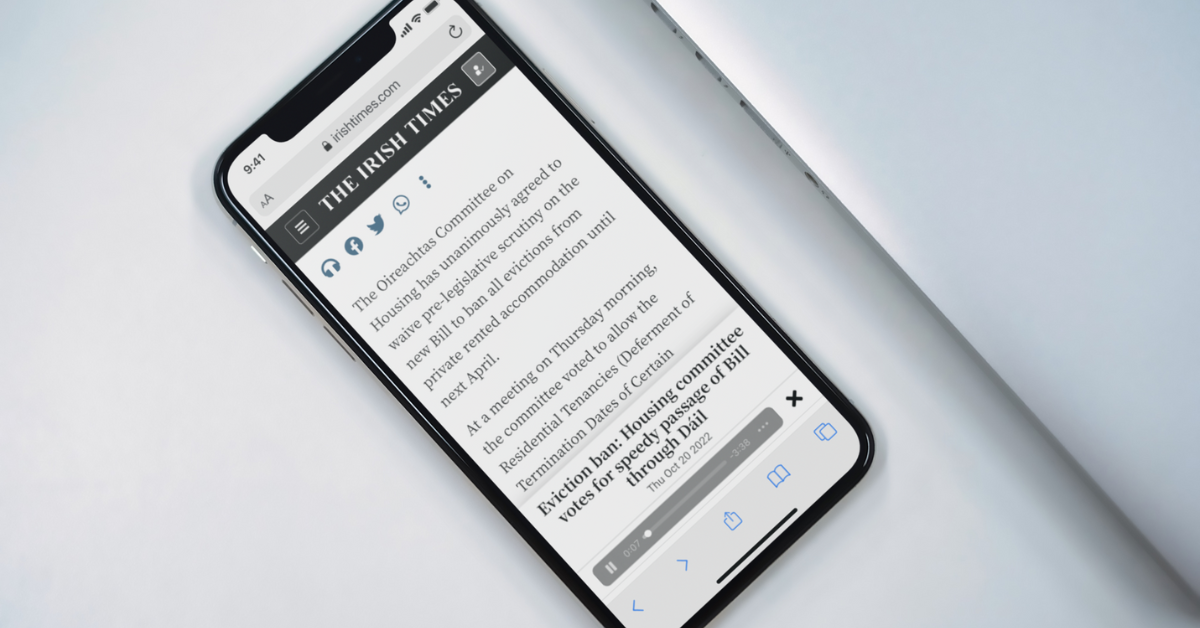 The Irish Times began offering audio articles with BeyondWords in 2019, when listening habits were really picking up pace in the country. Earlier that year, Reuters said that podcasts "appear to be reaching critical mass" and found that 37% of Irish people listened to podcasts monthly.²
"The customer service and support during implementation was seamless."
Podcasts remain extremely popular in Ireland. Last year, the country led the pack among 20 international markets, with 46% of the online population listening monthly.³
"We can see, through the growth in podcasts, audio becomes more of a typical activity for news audiences who don't necessarily have the time or inclination to sit down and read," said Logue.
"Recognizing that our audience was often on the move or busy with other things in life, while at home, we wanted to provide an alternative or complementary way for them to consume our journalism. We very much believe that what is most important is the journalism itself and the means of delivering it, the platform, should be influenced heavily by the audience preference."
At the same time, voice AI had reached a tipping point. With the development of lifelike AI voices and automated audio publishing tools, there was finally a viable alternative to human voice over. The Irish Times knew they needed to take control of their audio UX and sonic branding.
"We were very impressed with the quality of the AI voices, and the customer service and support during implementation was seamless from the BeyondWords team," said Logue.
Using audio to drive subscriptions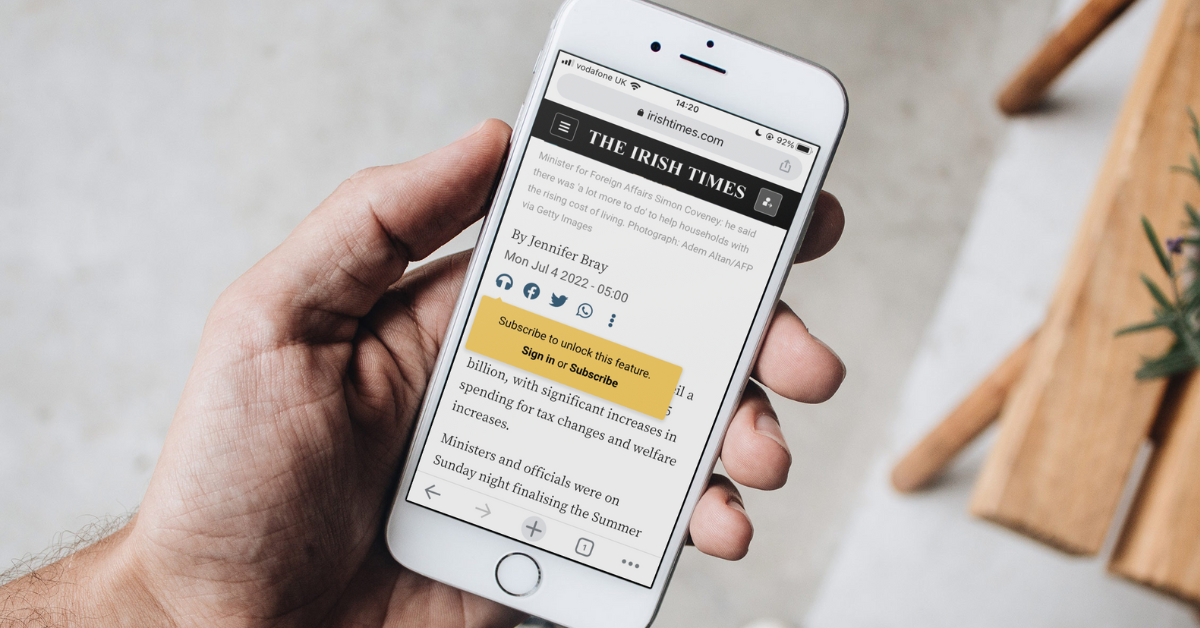 In Ireland, 16% of the population pays for online news.⁴ Subscriber-only features, like the 'Listen' audio service, are helping The Irish Times to capture the largest share of this market.
The 'Listen' brand brings together various podcasts and audio versions of articles. And while a selection of opinion columns and feature articles are author-read, with the audio hosted on BeyondWords, voice AI is crucial to delivering the bulk of news audio on time and at scale. Integration with their Arc XP CMS, alongside our player SDK, means audio versions are created and published automatically.
"We now have AI audio on almost all of our articles and we have decided to make this a subscriber benefit. When a user clicks the icon to listen they are prompted to log in or subscribe," said Logue. "We see it as a major part of a more holistic audio offering."
And it's not just about enticing people with listening needs and preferences to sign up. Another key benefit of audio articles is reduced churn.
When subscribers have the option to listen — not just read — they're better able to fit news into their day. That means they're less likely to experience "unread guilt factor", the reason behind 13% of digital news subscription cancellations.⁵ Plus, Northwestern University research shows that frequency of consumption is the biggest predictor of retention in digital news.⁶
A localized voice for a localized audience
Where exactly does Sinn Féin stand on climate change?, The Irish Times, published July 2022
The Irish Times saw positive results with other voices, but it was the adoption of Irish-accented voices that really cemented their commitment to automated audio. "The availability of an Irish accent was a big determining factor in our expansion in the use of AI on our newly designed site," says Logue.
"Many listeners don't realize it's not a human that's speaking."
Not only does the localized voice allow them to better connect with their localized listeners, but it delivers more accurate pronunciations of regional words. This works in conjunction with voice support from BeyondWords.
For example, thanks to our customizable NLP algorithms, we're able to add pronunciations for out-of-vocabulary Irish names like 'Micheál' and ensure the abbreviation 'Co.' is expanded to "County".
All of this means that the automated audio sounds authentic and professional, and keeps listeners coming back for more. According to Logue, "many listeners don't realize it's not a human that's speaking."
What's next?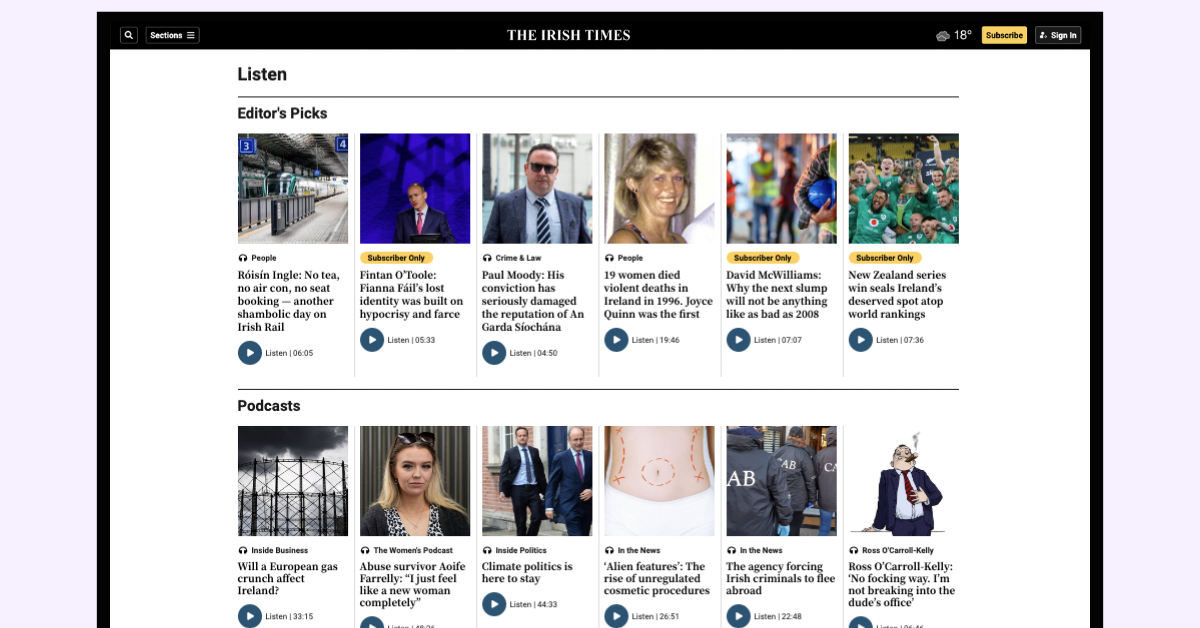 The Irish Times is still in the process of analyzing data following its website and app relaunch in May 2022, in which the audio offering was expanded and placed fully behind a paywall. But the publisher is still thinking ahead and looking for ways to improve the subscriber experience.
Logue said: "Voice cloning is one area we're interested in, as there is added value for a subscriber to hear their favorite authors. We'd also like to improve the mobile experience by allowing users to browse other apps with our audio running in the background.
"BeyondWords' audio service has played a valuable role in our subscription growth, so we're looking forward to continued collaboration with the team, who have always been innovative, receptive to feedback, and quick to provide support."
Interested in bringing audio to your audience? Use the form below to arrange a meeting with our team.
Sources
Digital News Report Ireland 2022, Institute for Future Media, Democracy and Society (FuJo), published June 2022
Reuters Digital News Report 2019, https://www.rte.ie/documents/news/2019/06/digital.pdf
Reuters Digital News Report 2022
Digital News Report Ireland 2022, Institute for Future Media, Democracy and Society (FuJo), published June 2022
Cancel culture: Why do people cancel news subscriptions? We asked, they answered., Nieman Foundation, published October 2021
Is an Ad-free User Experience the Future of Local News?, Northwestern University, published September 2019
---