Content repurposing is a hot topic in the world of digital news, content marketing, and freelance writing. Publishers of all shapes and sizes are looking for ways to maximize their investment in written content creation and engage audiences with increasingly diverse needs, preferences, and habits.
At the same time, there's high demand for spoken-word audio content.
Converting your written content into audio can therefore be an effective way to grow your audience and revenue. And, if you opt for text-to-speech over human recordings, creation can be quick, easy, and affordable.
Read or listen on to learn about six key benefits of converting articles into audio:
1. Reach new audiences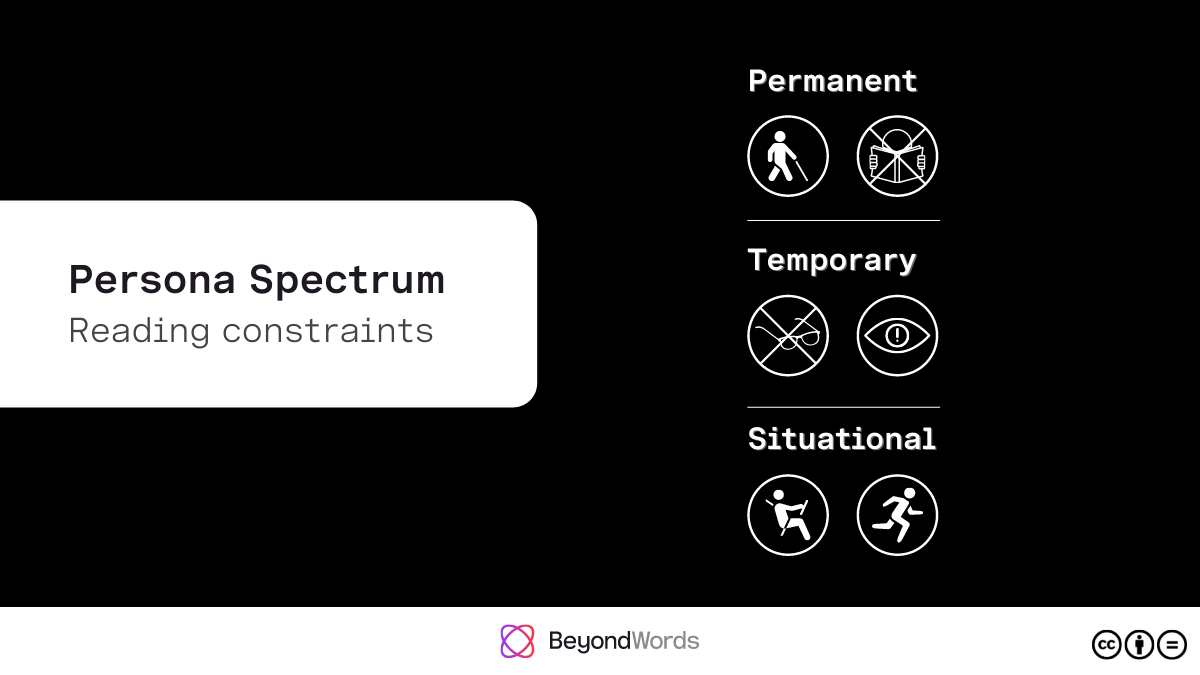 Converting your written content into audio is an effective way to expand reach, allowing you to engage new audiences that ultimately drive revenue.
This is largely because making your written content available in audio improves accessibility and inclusivity for people with vision impairments and reading limitations — which affect more than you might think. The Persona Spectrum breaks constraints down into three categories:
Permanent: For example, a person who is blind or illiterate, or a person with a learning difficulty such as dyslexia — 21% of adults in the US have low literacy skills¹
Temporary: For example, a language-learner or a person without access to their reading glasses — 1 in 10 Americans wear over-the-counter reading glasses²
Situational: For example, a person who is driving or exercising — 71% of Americans listening to more spoken-word audio say it's at least partly because it allows them to multitask³
"The power of the Web is in its universality. Access by everyone regardless of disability is an essential aspect." — Tim Berners-Lee, W3C Director and inventor of the World Wide Web (4)
There are also people who prefer to listen than read, so will actively seek out auditory content. 19% of Americans say they prefer listening to the news as opposed to reading or watching it⁵, and 56% of Americans who've increased their spoken-word audio consumption say they like listening more than reading⁶.
"Good marketing is about engaging with people the way they want you to." — Rachel Worsley, CEO at Neurodiversity Media (7)
Creating audio content can also unlock access to new distribution channels, giving you more opportunity to get in front of relevant audiences — whether or not they're already familiar with your brand. When you consider that 31% of people across 22 countries listen to podcasts monthly⁸, there are huge potential benefits on podcast platforms alone.
You might also find that competition on audio platforms is lower, so they deliver better results than other content discovery channels.
2. Improve engagement
There are people who won't directly seek out audio content, but who will opt to listen rather than read in certain moods and circumstances. Some, such as language-learners, like to read and listen simultaneously. By offering content in text and audio formats, you cater to these preferences and therefore increase engagement.
"It is clear that many publishers believe that audio offers better opportunities for both engagement and monetisation than they can get through similar investments in text or video." — Nic Newman, Reuters Institute (9)
Plus, studies suggest that audio can resonate more deeply than other content formats. UCL found that "listening to audiobooks elicits a more intense physiological and emotional reaction than watching films or television"¹⁰, while the National Literacy Trust says that listening can aid comprehension.¹¹
So, when people do opt to listen, they may have a more positive experience with your content. This can have a number of benefits, such as making them more likely to return and recommend your content to others.
If you're a freelance writer with performance-based earnings — for example, if you publish through the Medium Partner Program, or use Ko-fi to accept donations — increased engagement will directly contribute to increased revenue.
Our AI Audio Article Report 2021 shows that, on average, users who press play stay on-site longer (322 seconds vs 30 seconds) and explore more (1.39 pages per session vs 1.17) than non-listeners. Repurposing articles into audio can also help capture the attention of new users and encourage return visits.
3. Increase subscriptions and reduce churn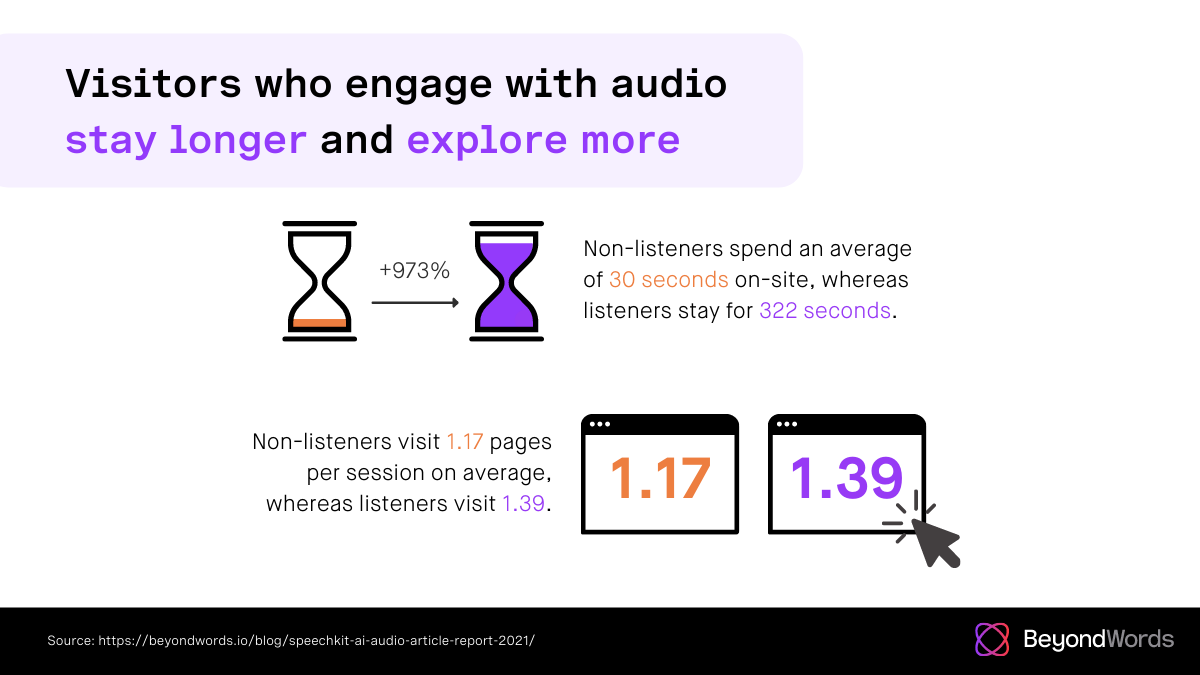 In the media industry, offering audio articles as a subscriber perk, like Japan Times¹² and News24¹³, can help convert visitors into subscribers. This is not only because it increases the perceived value of the purchase, but because it can help you stand apart from competitors.
In the US, 36% of digital news subscribers say one of the main benefits is getting content that is only available to paying customers¹⁴
In Mexico, access to more audiovisual content is one of the most important factors in digital media subscription decisions¹⁵
In the UK, 48% of digital news subscribers say they pay for online access because they get a convenient package of news and information¹⁶
And it's not just an on-site benefit. Writers can also use audio to gain and retain subscribers through platforms like Substack.
Another potential benefit of converting your articles into audio is reduced subscription churn. Frequency of consumption is the biggest predictor of subscriber retention in digital news¹⁷, and our research shows that audio articles keep visitors coming back for more.
Plus, 13% of news subscription cancellations result from subscribers having too much to read in too little time.¹⁸ The Economist's then Head of Strategic Product Development, Denise Law, referred to this as "unread guilt factor" when talking about the publication's move into audio.¹⁹
Give subscribers audio versions, and they're more likely to fit content consumption in and feel their subscription is justified.
"Our evidence suggests that the audio edition is a very effective retention tool; once you come to rely on it, you won't unsubscribe." — Tom Standage, Deputy Editor at The Economist (20)
With just 64% of consumers saying they're highly satisfied with their digital news service²¹ and audio consumption on the up, it's little wonder that more publishers are augmenting their offering with narrated articles.
4. Increase ad revenue
There are a number of ways to benefit from increased advertising revenues when converting articles into audio.
As explained earlier, narrated articles can boost page impressions and engagement. When it comes to affiliate content, pay-per-click (PPC) display ads, and other performance-based ads, this can lead to higher conversions for advertisers — and therefore higher commissions for you.
These stronger audience and engagement numbers can also help you to sell advertising opportunities on your site.
You can even sell audio production capabilities as part of your native advertising package. Making sponsored posts listenable could help you sell more placements and fetch higher fees, as well as delivering stronger results for advertisers, making them more likely to advertise again.
Creators have the opportunity to directly monetize their audio content with audio and companion ads, too.
5. Unlock new revenue streams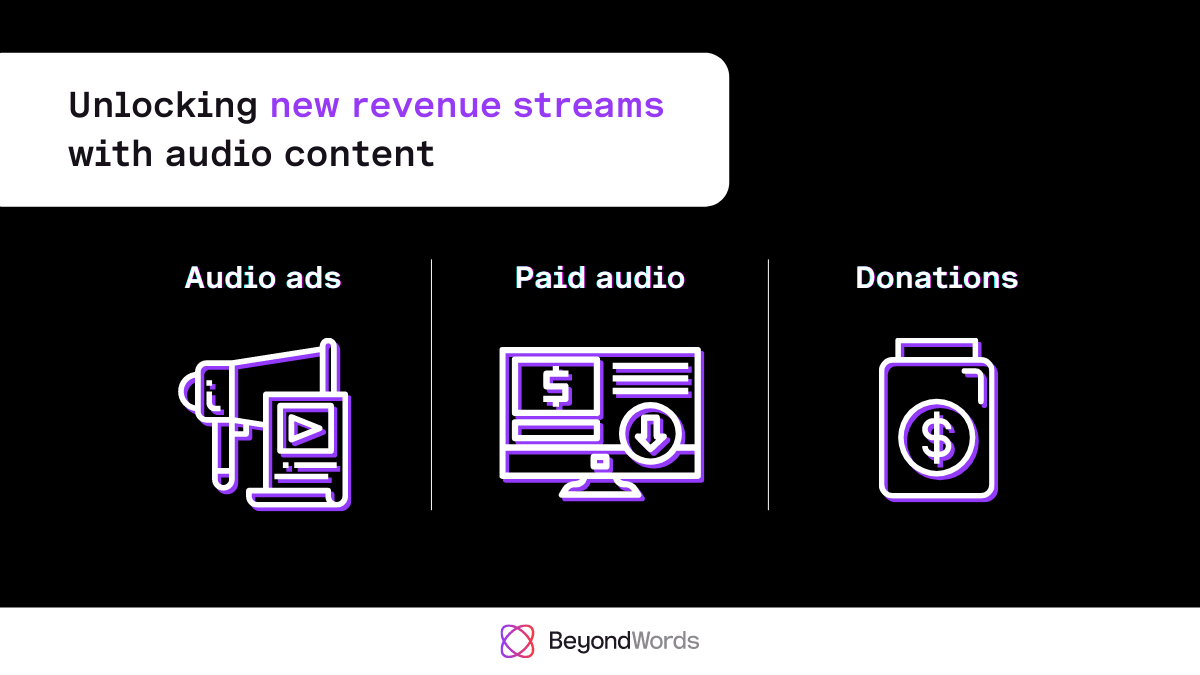 Revenue diversification was identified as a key theme for media leaders in 2021, with commercial publishers saying an average of four revenue streams would be important or very important.²²
Audio could play a valuable role in any content monetization strategy. As well as driving indirect return on investment (ROI), it has the potential to unlock new, direct revenue streams.
"It is incumbent on publishers large and small to implement strategies which generate revenue from multiple sources." — Damian Radcliffe, Carolyn S. Chambers Professor in Journalism at the University of Oregon²³
Advertising is one way to directly monetize your audio content. This is usually a case of inserting pre-roll, mid-roll, or post-roll audio messages from sponsors.
While it is possible to negotiate direct deals and insert ads manually, it's common for publishers and advertisers to use programmatic audio advertising. This technology uses an algorithmic AI to automate the selling and insertion of ads into streamed audio content. The video ad serving template (VAST) is typically used to ensure cross-compatibility.
Programmatic advertising platforms, such as Google Ad Manager and Adswizz, pay publishers on a cost-per-mille (CPM) basis, which is a payment per 1,000 listens. Podcasters typically earn $18 CPM for 30-second ads.²⁴
Audio may also generate other opportunities to sell ads. For example, you can host companion ads on audio landing pages.
Charging for audio content is another way to benefit from direct ROI.
One option is to offer digital media purchases through your website or a third-party platform. However, you only have to look at the rise of music streaming services and the downfall of downloads to see that audio consumers prefer subscription models.
While many publishers offer audio articles as an all-subscriber perk, as discussed earlier, you can build packages where audio access comes at a premium. It's also possible to offer paid audio subscriptions through third-party platforms like Patreon and Apple Podcasts.
17% of people across 22 countries paid for online news in the last year
The proportion of Americans paying for audio subscriptions has doubled since 2015, to 47%²⁵
10% of people in the UK are willing to pay for online news articles, and 9% are willing to pay for podcasts²⁶
Inviting donations could be an effective way to generate direct revenue without placing audio content behind a paywall. In Jan/Feb 2022, 16% of US podcast listeners said they have paid or donated money to listen to a podcast. 25% said they were very or somewhat likely to do so in the next 12 months.²⁷
6. Improve your SEO
Adding audio versions of written content to your site could indirectly benefit your search engine optimization (SEO) strategy. This is because audio engagement can prompt positive user experience (UX) signals that search engines use to evaluate rank-worthiness.
"If users find [an audio-enabled] page more useful and they recommend it more, that's something that could have an effect [on search rankings]." — John Mueller, Google²⁸
As outlined in our AI Audio Article Report 2021, visitors who engage with BeyondWords-powered audio articles spend 973% longer on-site and visit more pages per session. These are positive UX signals that could prompt Google's RankBrain algorithm to boost organic rankings.²⁹
Visitors may also be more likely to share and link to your article if it has an audio version, because they understand this makes it accessible and engaging to a wider range of audiences. The effect is likely to be pronounced when similar articles or resources from your competitors are not audio-enabled. These recommendations are valuable in terms of both SEO and PR.
Publishing audio content can also create new ways for your content to be discovered via search. This gives you more control over branded search results and expands your reach.
For example, if you distribute via Apple Podcasts, your audio content will be findable through the Apple Podcasts app and iTunes Store. These Apple podcasts can then be indexed by podcast search engines like Listen Notes as well as web search engines like Google.
How do I convert my written content into audio?
There are two main ways to repurpose written content for listeners: with human voice recordings, or with text-to-speech.
BeyondWords is an AI voice publishing platform that makes it quick, easy, and affordable to convert articles into audio. You can enjoy the benefits of spoken-word audio publishing — without the expected effort and expense.
Automatically make pages listenable
Use our Text-to-Speech Editor to create audio manually
Auto-distribute audio content to podcast platforms
Distribute audio via player embed, URL, or mp3
Human-like text conversions and pronunciations
Use AI voices from our vast library or create a custom voice
Monitor audio metrics through BeyondWords or Google Analytics
Monetize audio through advertising or subscriptions
Interested in converting articles into audio with BeyondWords? Create your free account and start engaging listeners today.
Any questions? Email [email protected].
Sources
1. National Center for Education Statistics, 2. The Vision Council [PDF], 3. National Public Media, 4. W3C, 5. Pew Research Center, 6. National Public Media, 7. Neurodiversity Media, 8. Reuters Institute, 9. Reuters Institute, 10. UCL, 11. National Literacy Trust, 12. Japan Times, 13. News24, 14. American Press Institute, 15. Luminate Group [PDF], 16. Reuters Institute, 17. Northwestern University, 18. Nieman Lab, 19. LinkedIn, 20. Nieman Reports, 21. Comscore, 22. Reuters Institute, 23. Journalism.co.uk, 24. AdvertiseCast, 25. Reuters Institute, 26. Edison Research, 27. YouGov / Variety Intelligence Platform, 28. Google via YouTube, 29. Backlinko

Sign up