< Back to blog
We're helping AI voice actors get a better deal with a ground-breaking legal template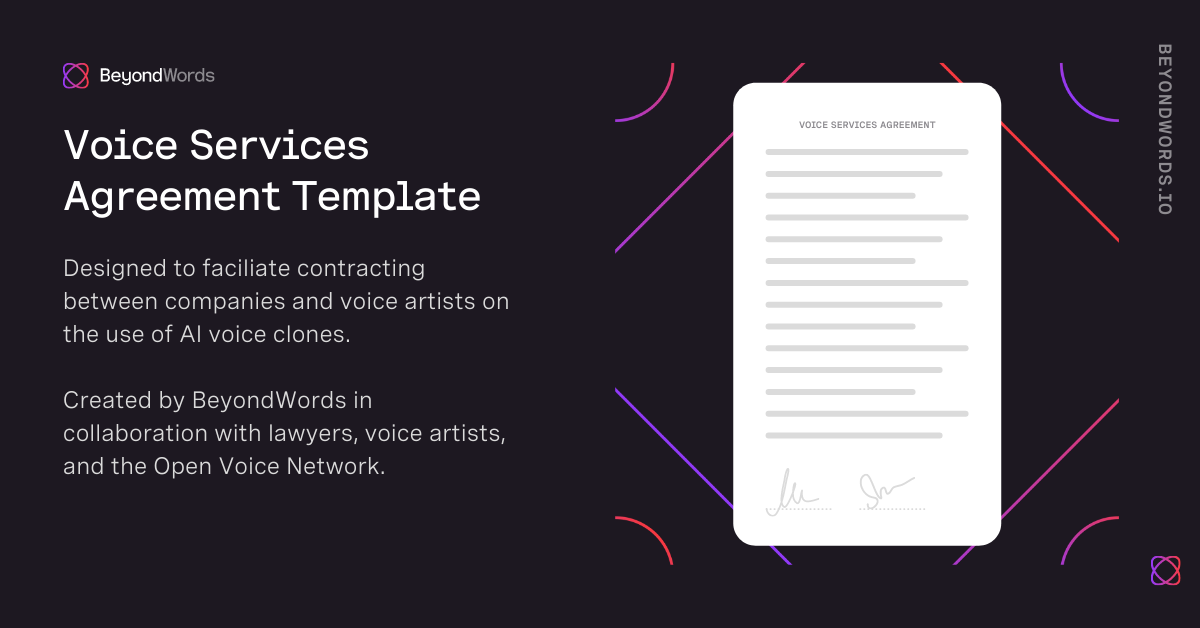 Today, BeyondWords is launching a Voice Services Agreement Template (VSAT) to help protect the interests of voice actors working in text-to-speech.
Created in response to growing concern over AI voice ethics, the VSAT facilitates fair contracting between a person recording their voice for the purposes of synthetic speech and the company using the recordings.
The VSAT has been made in partnership with the Open Voice Network, an independent, non-profit association dedicated to developing ethical standards for voice technology.
How does the VSAT work?
When a company wishes to develop a custom AI voice, it may seek recordings from a voice actor or other speaker. The Voice Services Agreement Template provides a legal framework for the contract between these two parties: the terms and conditions that both agree to.
BeyondWords and the Open Voice Network developed the VSAT in collaboration with lawyers and voice actors to ensure that it offered a comprehensive foundation.
"Synthetic voices are already here. We can bury our heads in the sand, or we can come up with ways for it to benefit everyone." — Jodi Krangle, voice actor
As well as encouraging the payment of one-off and usage-based fees so that voice actors are fairly compensated, the VSAT provides a framework to manage voice IP over the term of the contract, formalizing the following aspects:
How the voice recordings can be used
Who can use the resulting voice clone
What types of audio can be created
What happens when the contract is terminated
The VSAT is free to use under a Creative Commons 0 1.0 license and fully customizable. We recommend that both contracting parties work with independent legal advisors to tailor the final Voice Services Agreement to their needs.
Why we created the Voice Services Agreement Template
Demand for AI voice actors is growing rapidly. But voice AI is a rapidly evolving industry, and there are few standards in place.
Voice actors are at risk of unwittingly signing a bad deal.
The community's fears were brought into focus in May 2021, when voice actor Bev Standing filed a lawsuit against TikTok for the unauthorized use of her voice in the platform's text-to-speech feature.
BeyondWords believes that voice actors should maintain control over their voice IP and be paid fairly for its usage, earning royalties for every word synthesized. That's why we developed the VSAT and are committed to building fair partnerships with voice actors.
Last year, we formed voice agreements with voice actors Joe Coen, Jodi Krangle, and Adam Lofbomm. Their AI voice clones are available to eligible paid users on BeyondWords, with royalties paid on a cost-per-character basis.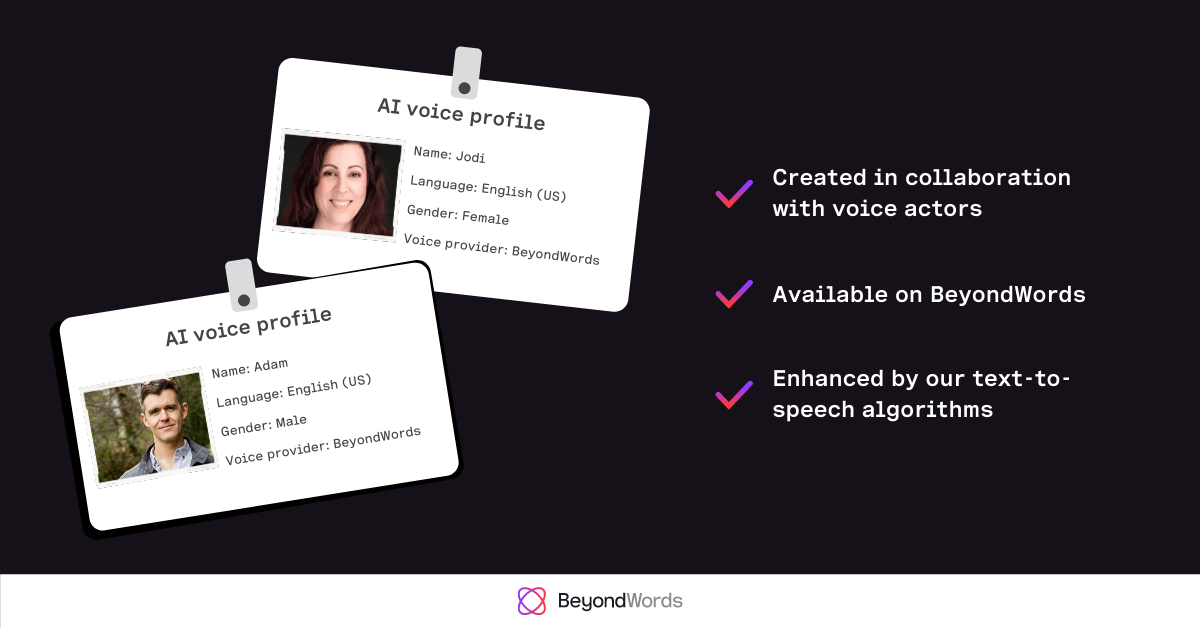 Krangle said: "The VSAT represents a combined effort to address the concerns of both software companies and voice actors in a legal, ethical format. It's a win-win for both parties and I greatly appreciate BeyondWords' and the Open Voice Network's willingness to work with us.
"Synthetic voices are already here. We can bury our heads in the sand, or we can come up with ways for it to benefit everyone."
Jon Stine, Executive Director at the Open Voice Network, said: "Synthetic speech is an increasingly important part of what is a rapidly growing audio landscape. It will be part of our life in dozens of places, and bring benefits to consumers, voice actors, and businesses — that is, if we can work together to bring widely accepted standards and guidelines to the technology.
"The Open Voice Network, a global, open-source community of the Linux Foundation, has been delighted to work with the leadership of BeyondWords to develop a demonstration of synthetic voice, as well as a proposed standard agreement for voice actors and synthetic voice developers. We hope this will provide clarity and a measure of confidence for those working in synthetic speech."
Voice clones can bolster voice careers, enabling actors to earn passive income where human voice over is infeasible. We hope that, by offering a fairer deal and launching the VSAT, we can introduce more voice actors to the benefits.
The end game? Synthetic speech that can speak for — and to — everyone.
Interested in creating a voice clone with BeyondWords? Email [email protected].