Creating and sharing playlists is an effective way to improve engagement with audio content and narrated text. It aids with content discovery, helping you connect audiences with audio they're interested in — whether it's on your website, podcast platforms, or elsewhere.
Here are 3 audio content playlist ideas to inspire you.
1. Split longer audios into sections
Best for: White papers, reports, e-books
Users don't always want or need to listen to an audio in full. Perhaps they'd like to hear a specific section of your report, skip to a later step in your how-to guide, or pick up from where they left off earlier. Splitting your audio into sections helps listeners get straight to the parts they're interested in.
With our Playlist Player, users can listen right through everything at the touch of a button or jump straight to a specific chapter. That means a better user experience, which should translate into better engagement.
Create audio for each section in the Text-to-Speech Editor
Manually create a playlist featuring all your sections, making sure they're in the right order
Customize the Playlist Player, then embed or share via URL
As well as embedding the playlist at the beginning of your content, I recommend embedding the individual audios into each section, using our customizable Small Player for a streamlined look (just like I have in this article). This enables listening from any point and makes it easier to listen and read simultaneously — especially if your content is spread across multiple pages.
2. Make targeted recommendations
Best for: News articles, blog posts, content marketing, creative writing
Custom playlists make it easy to present related audios together. This means that you can curate audio recommendations for various purposes and audiences.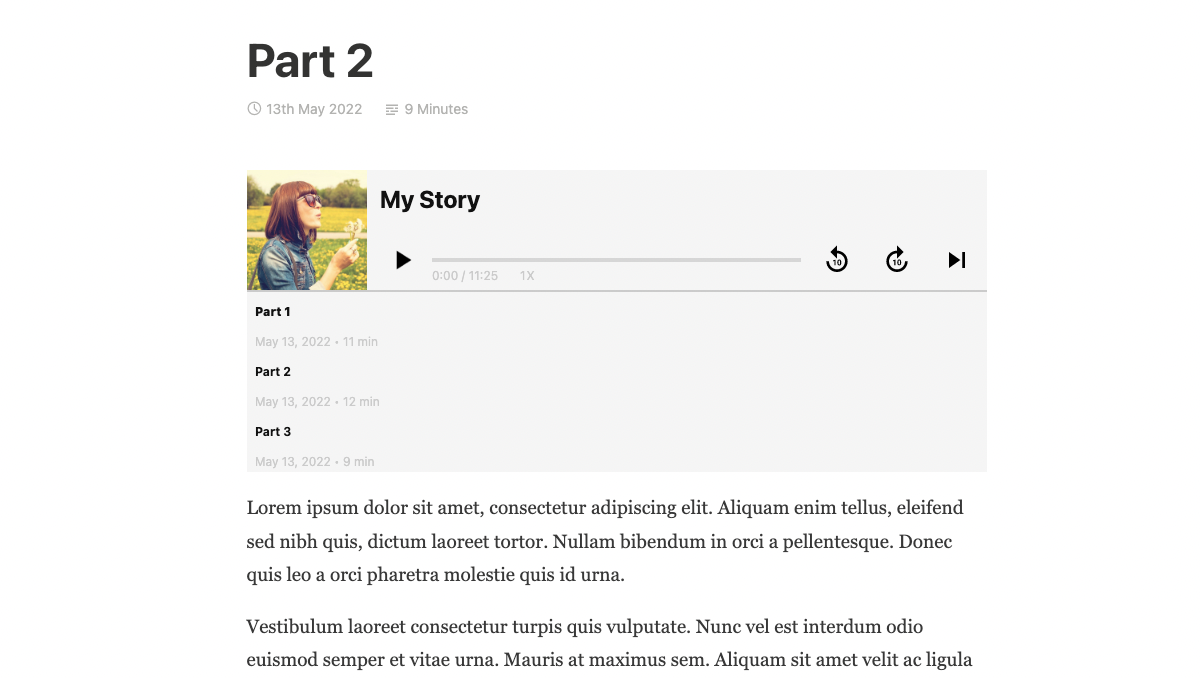 Let's say you've published a story in three parts. As well as embedding the corresponding audio version into each page, you could embed a playlist featuring the entire series. That way, listeners won't have to navigate elsewhere to catch up on what they've missed — or hear what's next.
When you create playlists automatically, you can deliver themed and ever-evolving recommendations. Just set up the rules, and the playlist will be auto-updated with relevant audios.
For example, news publishers can use meta data to group audio by category or author. These targeted playlists can then be embedded into associated landing pages and articles, or linked to in personalized newsletters. It's a near-effortless way to help audiences find audio they'll like.
3. Manage audio newsletters with ease
Best for: News bulletins, daily briefs, market insights
When busy audiences don't have time to read or listen to every piece of content, an audio newsletter is a great way to keep them informed and engaged. You can convert existing roundups and newsletters into audio or create your audio briefings from scratch.
I recommend distributing your audio newsletter via podcast platforms like Apple Podcasts and Spotify. This makes it easier for podcast users to find and listen to your updates. They can even subscribe to your show to receive the latest episodes direct to their app.
There are two ways to achieve this in BeyondWords:
Create newsletters in a separate project — recommended if you are creating the audio manually
Set up an automatic playlist for newsletters — recommended if you are creating the audio automatically
You can then create a podcast feed for your project or playlist and submit it to the directories of your choice. To maximize visibility and engagement, follow my advice on optimizing your podcast feed.
Of course, you can also distribute your audio newsletter via our Playlist Player. This can be embedded into relevant web pages or shared via URL — perfect for email.
Create a custom playlist today
With custom playlists, it's even easier to get audiences in front of audio they're interested in and keep them engaged for longer. These three ideas should give you a good starting point, but we'd love to hear what else you come up with!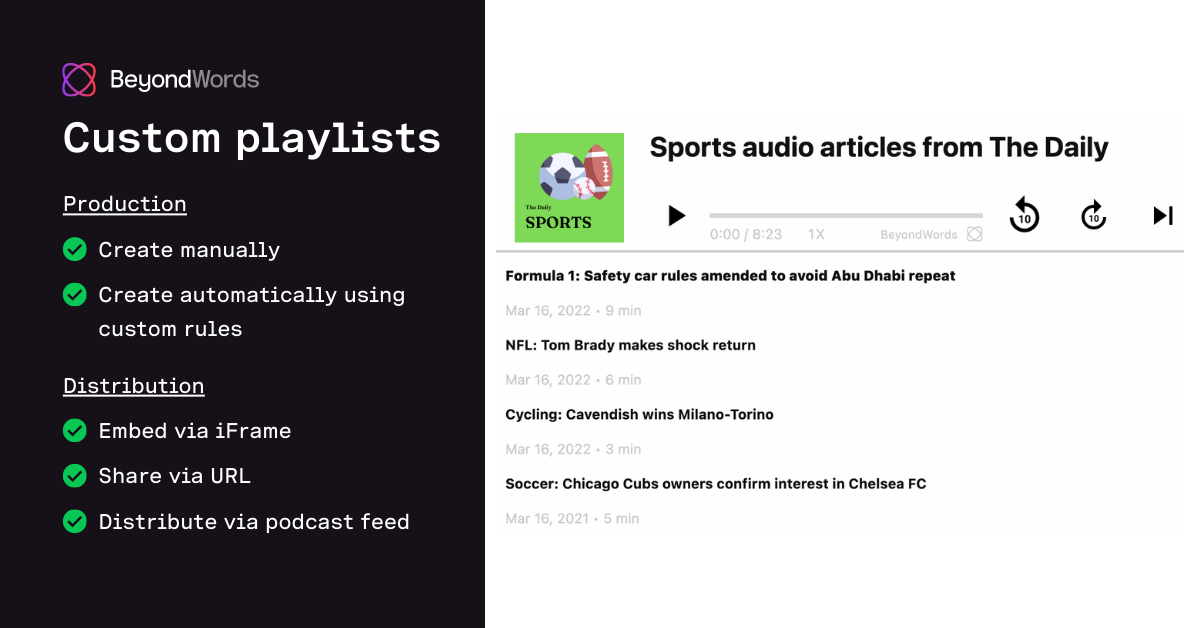 Already signed up? Head to the 'Content (Playlists)' section of your project dashboard to get started. If you don't have the pricing plan you need, you can upgrade in seconds via your dashboard.
New to BeyondWords? Sign up free and create your first audio today. You can upgrade anytime to access custom playlists and other premium features. Alternatively, book a demo with our team.
---