*This post is read by Tony (standard voice) and Maria (premium voice).
We've rounded up the most important audio engagement statistics from 2022, including AI audio narration benchmarks from our own analytics
We're listening more than ever
The Infinite Dial surveys found that online audio engagement grew considerably in 2022. The percentage of the population listening weekly reached:
71% in Australia (up five percentage points)1
67% in the US (up five percentage points)2
64% in Canada (up three percentage points)3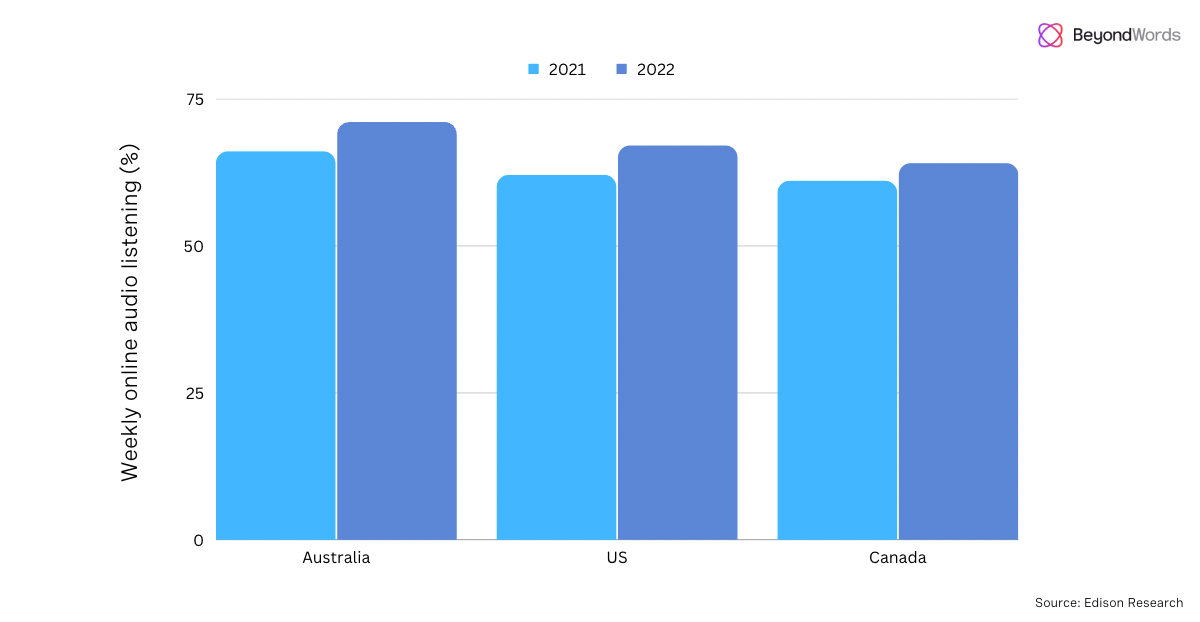 40% of listeners plan their day and activities around audio content.4
Spoken-word is most popular format of daily listeners
The Spoken Word Audio Report5 showed that spoken-word audio continued to displace music in the US. Americans listened to an average of 1 hour and 4 minutes every day, which represented 29% of their total listening time (an increase of one percentage point).
The effect is particularly pronounced among daily spoken-word audio listeners, who represent 46% of the population. For the first time, this group spent more time with spoken word than with music (51% vs 49%). On average, they listened to the likes of audio articles, audiobooks, and podcasts for 2 hours and 19 minutes a day — 13 minutes longer (+10%) than in 2021.6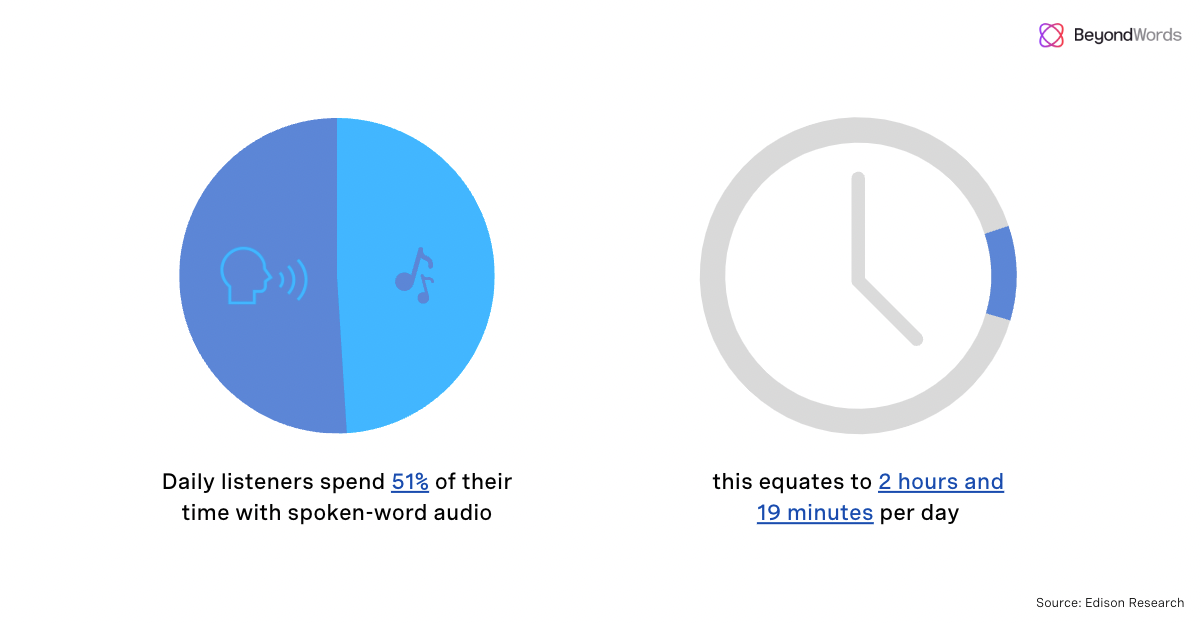 Podcast data also demonstrates an uptick in spoken-word audio consumption. 34% of people surveyed across 20 international markets said they had listened to a podcast in the previous month, up from 30% in 20217. Growth was strongest in:

Sweden, up seven percentage points to 44%
Ireland, up five percentage points to 46%
Norway, up five percentage points to 42%
Argentina, up five percentage points to 34%
Singapore, up five percentage points to 33%

All this increased listening is translating into increased revenue. In January 2022, 25% of listeners in the US said they were very or somewhat likely to pay money for a podcast over the next 12 months8. Just 16% said the same in March 2021.9

Meanwhile, the IAB forecast US podcast advertising revenues to grow by 43% last year, to $2 billion.10
Publishers increase their audio investment
With listening habits strengthening, 80% of news leaders said they would put more resources into podcasts and digital audio in 202211. As a result, audio articles and podcasts became a more integral part of publishers' revenue strategies.
Aftenposten, Norway's largest news publication, achieved huge success with its podcast operation, reaching more than 160,000 paying subscribers12. They consequently partnered with BeyondWords to add automated narration to their articles, using a voice clone of their podcast host.
Director of product, Karl Oskar Teien, said: "How do you break through in the attention economy? We think it starts by adapting to the fact that, for many users, the audio-first world is already here."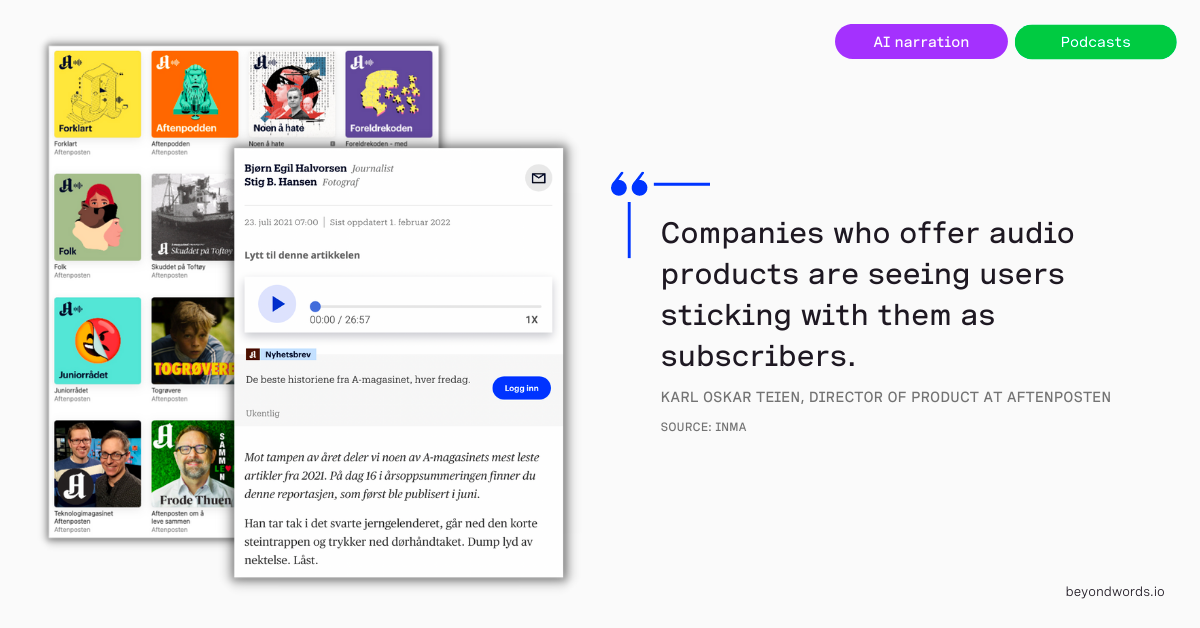 The Irish Times, the most popular digital news subscription in Ireland, expanded its audio offering as part of a site and app relaunch. This helps them to tackle 'unread guilt factor', a leading cause of subscription churn.
"Recognizing that our audience was often on the move or busy with other things in life, while at home, we wanted to provide an alternative or complementary way for them to consume our journalism. We very much believe that what is most important is the journalism itself and the means of delivering it, the platform, should be influenced heavily by the audience preference," said digital editor Paddy Logue.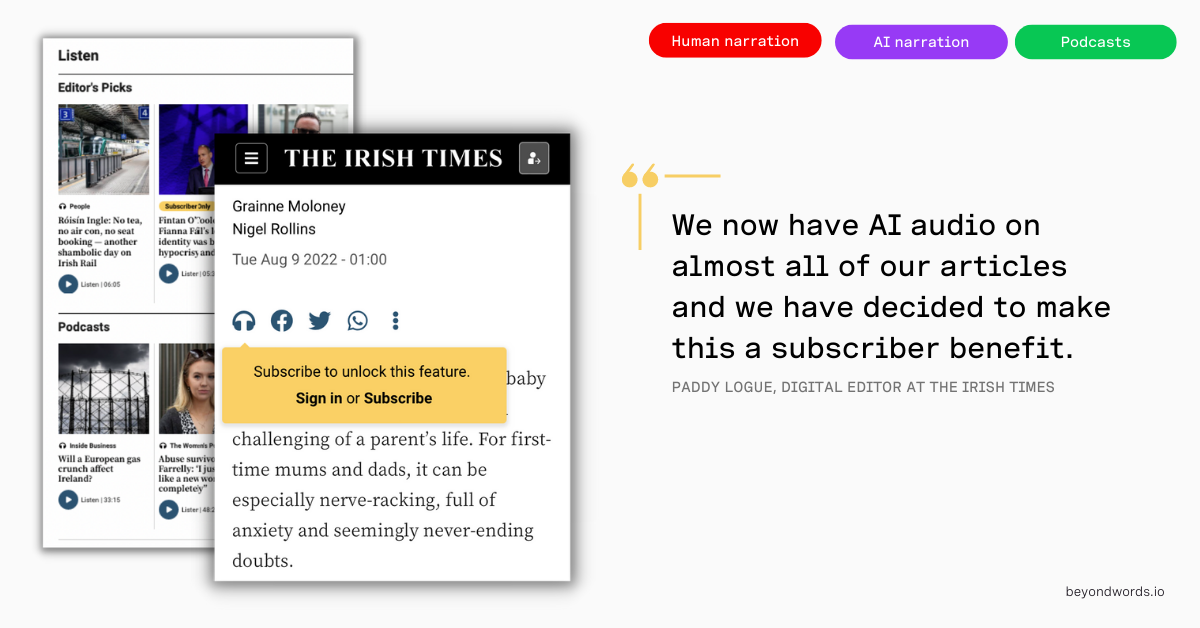 But it's not just the news industry taking advantage of the audio boom.

In financial services, for example, analysts are using AI audio to help clients extract more value from financial research. Top firms are also using podcasts to better reach and engage their target audience.
AI audio narration benchmarks
To see how listeners interacted with AI audio narration in 2022, we analyzed more than 17 million audio plays through the BeyondWords Player13. This is the audio player that some of our publishers use when embedding their audio versions or sharing them via URL.
We found an average listen rate of 4.19%. That means more than 1 in 25 audio loads result in the user clicking play. This notable demand, combined with improved quality of AI audio, is what's driving more publishers to invest in automated narration.
Plus, our data shows that listeners typically listen for 3 minutes and 45 seconds each time, or 59% of the playback duration. When you consider that the average time on page benchmark is just 55 seconds14 it seems that audio keeps users engaged for around 4 times longer.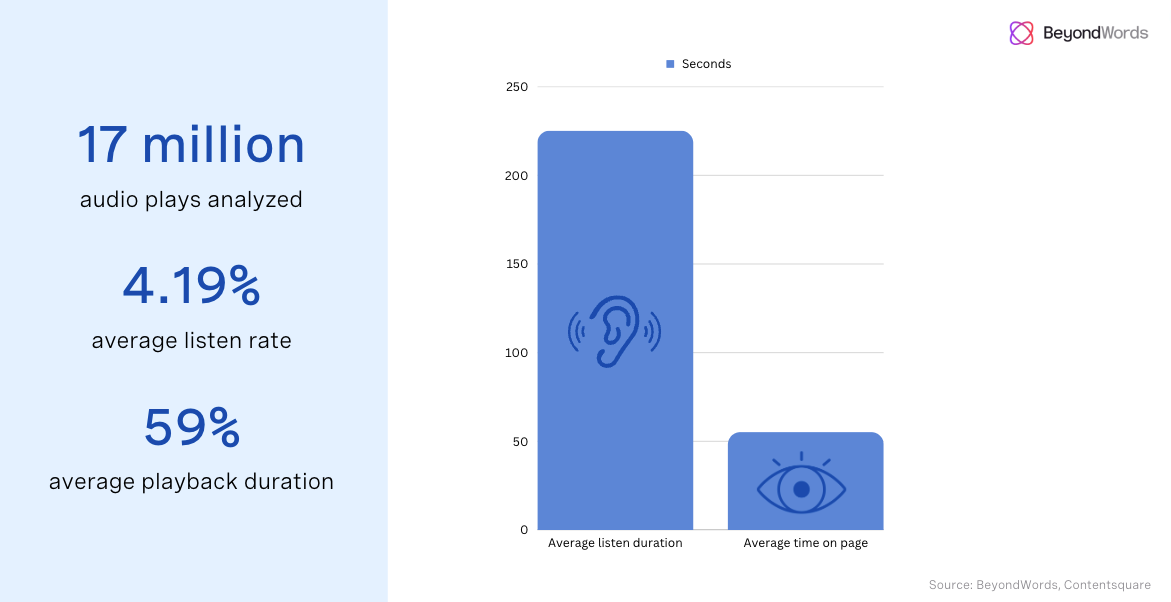 The rise of smartphone usage is one of the main drivers of the audio content boom, as it gives people the opportunity to listen almost anywhere. There were an estimated 6.64 billion mobile users worldwide in 2022, up from 6.37 billion (+4%) in 2021.15
However, it's clear that people exercise their listening needs and preferences even while at home or work — our research shows that 58% of listens are on mobile, 39% are on desktop, and 3% are on tablet devices.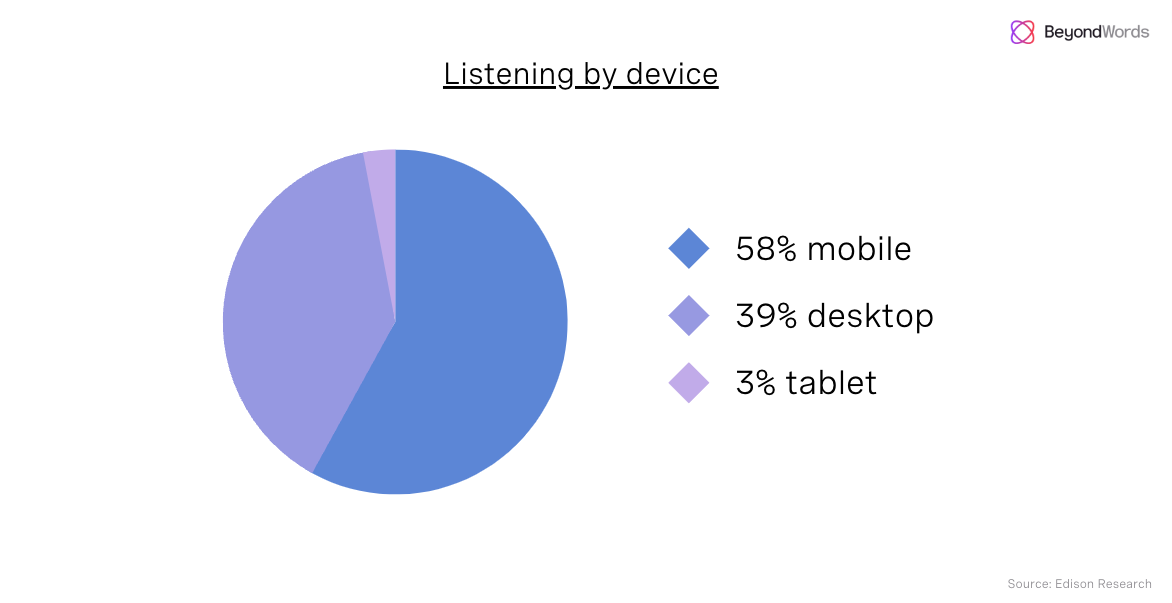 Summary
Listenable content has a wider reach than ever, presenting a huge opportunity to publishers and creators worldwide. As AI voices continue to improve — and this technology moves towards maturity in the adoption cycle — readers will start to expect options to listen.

With our AI voices and audio CMS, capitalizing on spoken-word audio habits couldn't be easier. Sign up free or book a meeting with our team to learn more.
Sources
The Infinite Dial 2022 Australia (population aged 12+), Edison Research
The Infinite Dial 2022 (US population aged 13+), Edison Research
The Infinite Dial 2022 Canada (population aged 18+), Edison Research
2022 State of Audio, Audacy
The Spoken Word Audio Report 2021, Edison Research
Digital News Report 2022, Reuters Institute
UK and US: How many consumers are willing to pay for their podcasts?, YouGov, published April 2022
Most podcast listeners still lukewarm on paying for podcasts, data suggests, Variety, published March 2021
U.S. Podcast Advertising Revenue Study [PDF], Internet Advertising Bureau, published May 2022
Journalism, media, and technology trends and predictions 2022, Reuters Institute
Audio, app products are worth the investment to attract audiences, INMA, published May 2022
BeyondWords Player analytics data from 1 January to 30 November 2022 inclusive. To reduce interference from audio testing, we excluded projects with less than 1,000 plays.
2022 Digital Experience Benchmark, Contentsquare
How many smartphones are in the world?, BankMyCell, accessed December 2022